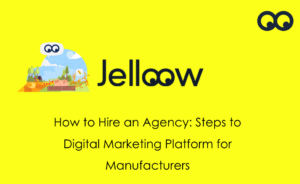 April 2022
Businesses in 2021 are about creating an online presence to stay at the fingertips of their target audience, which is why digital marketing platform for manufacturers has become crucial for all industry leaders.
But when it comes to finding the right marketing partner for your business, it is never an easy task. How to hire an agency so that you never face the red flags? Let us help how you can find a marketing agency with the right interview questions:
How to hire a marketing agency?
1. What does the marketing agency provide?
It is about the end-to-end marketing services that the agency must provide if you are looking for 360-degree marketing. However, you can also look for specialized agencies if your agendas are clear and you know what you're looking for, such as social media marketing and PPC campaigns. This way, you cut down your price and also get optimized results.
So, it is essential to find out what your needs are first. For this, you can always utilize the help of Jelloow's experts, who give free consultation to businesses and then guide them to meet the right marketing experts.
Now once you know the services, check out the domain of services they provide.
2. Do they have previous work to showcase?
The only way to judge a prospect is by showcasing their case studies. Think your business caters to a niche audience, and understanding the correct segregation has always been a problem earlier. So, the only way is to find an agency that has worked with similar audience sizes, demographics, and types. This is why, whether B2B, B2C, D2C, or B2B2C, you get assured that the associated experts will minimize your spending and optimize it to get the best result.
So, always look out for previous work. If they provide services to maximize application downloads on the Play Store, find out the budget, cost-per-install, reviews, and results produced. Check out the identifiers to quantify and qualify their performance.
3. Can they brief you about their current and previous clients?
The reason you need to know about their previous and current clients is to verify their client servicing. Sometimes, the companies have a great set of records and services, but you deserve a personalized approach which is only possible if you see their work with other clients. It is best if the digital marketing reviews from other competitors are excellent too.
You can also testify to the results through what's visible in the online world.
4. What are the best capabilities of the marketing agency?
Some copywriters are great wizards for celebrities, but it may not be beneficial for any party if you ask them to write technical documents. Similarly, if you request social media strategists for the software industry to manage politicians' social media accounts, what a mess it could be!
That's why you must know the team and its capabilities. Ask your potential marketing partners to introduce you to their teammates. This way, you get assured about the quality of the services and their forte.
5. What are the tools on digital marketing platform for manufacturers that they'll use for your project?
Marketing agencies use great tools and software to achieve results. From email marketing software to social listening tools to CRMs to report the progress, you must know what tools you'll be paying for and why.
Many people use Hubspot for their businesses, but it may be possible that you may not require all the packaged services. So, choose wisely and question why you should buy the software?
Don't forget to ask for credentials so that you can see the work and reports in real-time.
6. How long should the onboarding of the agency take?
Usually, you take the route of interviewing numerous agencies to end up on the piles of proposals that may not be close to what you need.
That's where Jelloow enters your rescue.
Log in to the platform and select the marketing services your brand requires according to the annual growth plan set for your company; choose the agency as per your budget bracket.
Why is this so simple?
We help businesses devise a growth marketing strategy to scale their revenues and enter the market to stay for profit. This happens when our marketing agents work on your brand from a customer acquisition point of view.
Our goal is always to solve problems. And to solve your problem, our strategists work to understand your business solutions by heart. By solving your end-customers problem, we are helping you.
That's why we call ourselves experts to bring down Cost-per-Acquisition for businesses. So, forget the interviewing process, meetings, proposals, and selection used to be. Now, you can get it all done within hours!
Just quote your requirements and choose your budget!
When should you expect results?
It depends from business to business and service to service. If you have never worked on Search Engine Optimization for your website, it could take a few months to show results. But if you are already ranking on the top pages and need us to manage or improve your online presence, we will formulate a plan to achieve the goals in a few weeks!
While your goals and services determine the results, we make it easy for you to achieve them. Our agents can automate your marketing and reports through CRMs like Hubspot.
You don't have to wait for a day to see progress. Nor do you have to become a Marketing Mogul to understand the advanced terminology of Google Analytics and other platforms.
So, are you ready to hire digital marketing firms Pittsburgh?
Suppose you are running your manufacturing unit in Pittsburgh. In that case, you can simply connect with a virtual team that will not add requisition costs to your company but only gives you the benefits of advanced marketing.
You might worry that it is safe to make such business traction, given the risk of losing business insight and data intelligence. But that's where Jelloow has come forward.
When someone is looking for a virtual team, we provide them with the contacts of registered agencies with Jelloow. Our business executives verify these accounts and help them to build their profiles. This way, it is a promise of quality provided by us and our network of Internet Marketing experts.
What are the additional benefits of choosing agencies from the Jelloow network?
The agencies are verified. While you might have to vet digital marketing proposals thoroughly, companies are tricked! We will only pay when satisfied.
In fact, you can opt for Jelloow Pay to make your secure transactions so that you can avert any sort of cyber theft.
We take away 90% of your pain by showcasing the best work of all the agencies on their profile. You will find the reviews of previous and existing clients. These are collected in the most accurate method. Our system intelligence disregards fake reviews and keeps a check on the sanity of all profiles.
If you are particular about hiring a local agency, we give you the option of selecting your marketing partner based on geography. Segregate your options based on the locations, and you can message them directly to set up a call or a meeting.
Our idea behind Jelloow has only been about adding feasibility and ease in doing business. While we declutter a lot of options, this is the best digital marketing platform for you and your agencies.
Is there any hidden cost involved?
There is NO cost involved for businesses. You are entirely free to navigate through our platform and enjoy the benefits of Jelloow without paying a dime.
Usually, agencies ask for service cost or retention cost, which is subtracted! We give you a free pass to browse through the best marketing agencies. These are the game-changers who have been successful wheels for many brands and MNCs. They can help you break the ice and strengthen your business position.
We are upfront about the financials involved, and if you see any discrepancies, we are more than happy to solve the problem for you.
Are you ready to hire an agency today?
Get ready to begin your search with us today. Our experts are prepared to present you with the best bid possible. Start with creating your account with Jelloow. Fill up the most accessible form so that our system can present you with the best options of agencies in your niche and audience. Wait for the agencies to bid on the project, and then choose the closest bid to your set budget. Not just that, you must compare the work before choosing. Also, with our chat tool available to all business accounts, you can communicate or negotiate if and when necessary.
So, what's the wait worth? Get started!