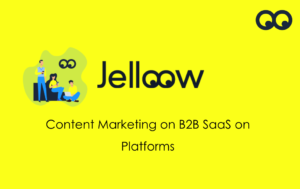 July 2022
In more recent years, Content Marketing Services have grown increasingly popular for B2B SaaS platforms.
What is Content Marketing?
Content Marketing is creating Content to gain traction for a business. Content creates room for conversation which will assist in lead generations and increase the amount of people discussing your business.
When it comes to Content Marketing Services, the first goal is less about creating those immediate leads. The first goal is to share content that represents the brand to build trust with customers. In the early stages, sharing well organized and deliberate content is most important. When a stronger brand is established, the leads will naturally flow in.
When creating a business, it is easy to fold under external pressures. For those looking to give their company a strong name, it is important to be consistent in Content Marketing. Consistency creates a respectable and reliable leadership style that enables long-term success. With a B2B SaaS established in clarity, it's time to map out a strategy.
Strategies of Content Marketing
To establish a rewarding marketing strategy: there are some important and strategic steps one must take.
1. Work on your mission Statement
The first being if your B2B SaaS does not already have one is to form a mission statement. What service does your company offer, why does your company offer it, and who does the business provide it for?
2. Create a calendar
Then there's the more basics of setting tangible goals for your company to meet for each Marketing period.
This part is very important: Create a calendar. Make it consistent. Don't give up.
3. Know your audience
It pays to know your audience, so study the analytics and demographics frequently. Yet, don't stop there. To learn more, open your site for feedback which will help more if down the line,  you decide to take a route to create buyer personas. Buyer personas help drive desire for your product  through connection that feels much more intimate than an ordinary post. It is intentional. It's intelligent.
4. Work hard, play hard
This is only the sort of thing you can learn through direct-experience. When creating a business, the most important thing you can do is keep an open mind that is eager to learn.
5. It's more than strategy, it's knowing
When it comes to successful Content Marketing, your B2B SaaS must be anchored in professional marketing that has an omnipotent awareness. Never stop learning and never stop growing, be aware of how your business is viewed in the external world. On a micro scale to macro scale.
Your B2B SaaS is an open-book. Even if you do not believe this: it is the same value to be aware of how a five year old would perceive your business as it is for the CEO of a booming company. That does not mean you must align to the visions of either party, it means you must be deeply rooted and aware of what your business stands for.
In today's day, content is ever-changing. When you have developed a strong sense of your business, it won't matter what everyone else is doing.
It will only matter what you are doing.
Now, there are so many routes available to take with Content Marketing and you can potentially master them all. Yet, which one is best for your company from where it currently stands?
Types of Content Marketing
Let's cut straight to the chase.
Make your business the apple of your eye and determine what is required for it to succeed. There are many various types of content that one can share to drive their business forward.
Listed below are many popular options businesses have decided to take: organized by form, not source.
1. Images
Images are probably the most original and a great option to consider for Content Marketing.
Options range from memes that generate a short-term reaction, usually laugh. Infographics are powerful when done correctly and can drive the credibility of your B2B SaaS upwards. Sharing pictures of leaders and employees in your company humanizes your company. In larger scale businesses, the sharing of real-life help build interpersonal relationships between co-workers and sister-like companies. Powerful images are frequently sent out during times of larger scale global events to share solidarity and unite people. A major example of this is the Black Square that many people and businesses shared on "Blackout Tuesday" on Instagram during the riots of Summer 2020.
2. Video Content
Now, videos are the most popular and come in all forms. Yet, they are also the trickiest and all Social Media Sites don't necessarily align with all companies. It takes a ton of awareness and an internal company shift to harness the potential to succeed platform to platform.
Platforms for Video Content?
There's potential on every platform and each one is different.
Instagram Stories are max 15 seconds long
Instagram grid posts are max 60 seconds
Instagram TV (IGTV) posts are as long 15 minutes from the mobile app and an hour from the Internet.
Tik-Tok videos can range from 15 to 3 minutes long
Longer and more informative videos are typically found on YouTube
LinkedIn videos are great for sharing more about your B2B SaaS
Twitter videos are a great platform for advertising
It is interesting to study the deliberate path businesses follow to increase their finances through likeability. A major example currently is the way in which a free language app has become a Tik-Tok sensation (Duolingo).
So, all that to say, if you can find a way to make it work, the platform can do wonders for your company.
3. Interactive Content
Interactive content is very underrated for all that it allows. It can increase the click-rate, driving more eyes to your business. Some very common ones are Polls, Quizzes, and posts that open a table for debate in the comments. These are common to LinkedIn, Twitter, and Instagram.
4. Others
Of course these aren't the only options. Hope it's not too Meta for you, but Blog Posts are definitely a great option.
Email Marketing is the obvious and a brilliant way to build connections, as long as those stay consistent and do not overwhelm the receiver.
Several other options include Podcasts, Webinars, Widgets, Games, and there's certainly many more. You could probably even invent your own!
Considering Utilizing Content Marketing Services?
Since there are such overwhelming options for success, the strategic planning stage is crucial for determining success and can be tricky.
Due to the number of dependent factors that exist when it comes to creating successful viral posts, knowledge is power. The more you know, the likelihood of your Content Marketing Services success is greater.
Wrap-up
All of these above services can greatly help a leader achieve their vision. Yet, they can only be as successful as the businesses' leader. When driven through balance with intelligence and a mind eager to grow, anything is possible.
Take care of yourself, take care of your business, sign up at Jelloow and allow for the world to unfold.