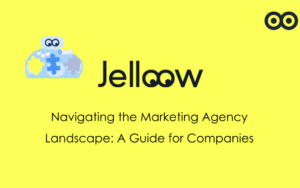 July 2023
In today's rapidly evolving business world, a strong marketing strategy is crucial for companies to thrive and stand out from the competition. As businesses seek to maximize their marketing efforts, partnering with the right marketing agency becomes a critical decision. However, navigating the vast landscape of marketing agencies can be challenging, with companies facing various obstacles from the selection process to maintaining a successful agency-client relationship. In this comprehensive guide, we will explore the biggest challenges companies encounter when selecting and working with marketing agencies and provide valuable insights on how to make the most of your agency partnerships.
1. Biggest Challenges with Selecting a Marketing Agency
a) Finding the Perfect Fit: One of the most significant challenges companies face is finding a marketing agency that aligns perfectly with their unique needs, industry, and target audience. The abundance of agencies with diverse expertise can make it challenging to narrow down the choices and select the best partner.
b) Overpromising and Underdelivering: Some marketing agencies tend to make lofty promises during the pitch phase, but when it comes to execution, they fail to deliver the expected results. This mismatch between expectations and outcomes can lead to frustration and wasted resources.
c) Limited Budget and ROI Concerns: Companies often have limited marketing budgets and want to ensure a high return on investment (ROI). The challenge lies in finding an agency that can deliver impactful results within the budget constraints.
d) Lack of Industry Understanding: For certain industries with unique target audiences and specific requirements, finding a marketing agency that truly understands the intricacies of the business can be daunting.
2. Challenges in Maintaining a Successful Agency-Client Relationship
a) Miscommunication and Misalignment: Communication breakdowns can occur, leading to misalignment between the company's vision and the agency's execution. Without clear and open communication, campaigns may deviate from the intended strategy.
b) Constantly Changing Marketing Landscape: The marketing landscape is constantly evolving, with new trends, algorithms, and consumer behaviors emerging regularly. Maintaining a competitive edge requires agencies to stay updated and adapt strategies accordingly.
c) Wasted Resources: In some cases, companies invest substantial financial resources in marketing agencies that fail to deliver the expected results, leading to wasted time, money, and opportunities.
d) Unmet KPIs and Performance Metrics: Establishing key performance indicators (KPIs) is essential, but if not clearly defined, agencies may prioritize metrics that don't align with the company's core objectives.
3. Maximizing ROI: How to Have Your KPIs Straight
To ensure a successful agency-client relationship and maximize ROI, it's crucial to set clear, measurable, and realistic KPIs from the outset. Here are some tips to have your KPIs straight:
a) Define Clear Objectives: Clearly outline your marketing objectives, whether it's increasing brand awareness, driving website traffic, or generating leads. Establish specific, measurable, attainable, relevant, and time-bound (SMART) goals.
b) Align KPIs with Business Goals: Ensure that the chosen KPIs directly contribute to your overall business objectives. For example, if your goal is to increase revenue, focus on metrics related to lead conversion and sales.
c) Regular Performance Reviews: Schedule regular performance reviews with the agency to assess progress towards meeting the established KPIs. Open discussions foster transparency and enable necessary adjustments to strategies.
d) Data-Driven Decision Making: Base decisions on data insights and performance metrics. Analyzing campaign data allows for a clear understanding of what's working and what needs improvement.
4. Referral Agencies: Why You Should Avoid the Temptation
While referrals can be valuable in various aspects of business, blindly choosing a marketing agency based solely on referrals can be a pitfall. Here's why you should avoid the temptation of referral agencies:
a) Mismatched Expertise: Referral agencies may have excelled in a specific industry or niche but may lack the expertise required for your unique business needs and target audience.
b) One Size Does Not Fit All: Marketing strategies need to be tailored to each company's specific goals and audience. A referral agency that excelled for one company may not be the ideal fit for yours.
c) Limiting New Perspectives: Relying solely on referrals may limit exposure to other innovative agencies with fresh perspectives and creative ideas.
Conclusion of how to navigate in this Marketing Agency Landscape
Choosing the right marketing agency and navigating the agency-client relationship can be a complex journey. By being aware of the challenges and making informed decisions, companies can maximize the potential of their agency partnerships, ensure successful campaigns, and ultimately achieve their marketing objectives. Setting clear KPIs, maintaining open communication, and seeking agencies that understand your industry and audience will pave the way for a fruitful and long-lasting relationship with your chosen marketing partner.
Here some great examples of how your colleagues did the same working with Jelloow:
Jelloow is here to smooth out any wrinkles you may find with a marketing agency relationship. Say you find the perfect agency for you and there have not been any problems. That is great and we are happy to help! There is also the other side of things where you may find yourself in a toxic marketing agency relationship and need help finding a new one. We are also here for you during that time as well. Jelloow is always here to make sure you are satisfied.