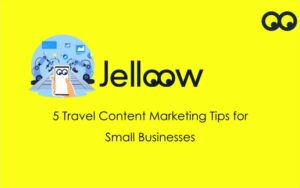 As a small business, travel content marketing is an effective, cost-efficient way to amplify your website's organic traffic, build brand awareness, and engage with your target audience. Getting started with content marketing can seem like a daunting task at first. That's why Jelloow is here to help! This article will guide you through the basic steps to travel content marketing that will elevate your business. Here are some tips to leverage its power: 
1. Identify the target audience of your travel marketing content
Understanding your target audience is the first step to a successful travel content marketing strategy. As a small business, you are able to offer personalized and unique services to your customers. Capitalize on that by focusing on a narrow target audience. Ask yourself how you can harmonize their interests and needs with your insights and services.
Demographics: Collecting demographic data will help you build a foundation for your business' user persona. Google Analytics and social media analytics are excellent tools to analyze data on your audience's age, gender, geographic location, and other metrics. 
Interests: Another important aspect of understanding your target audience is identifying their interests. Here are a few questions to consider:
What are their travel preferences? 

What are their pain points?

What kinds of

travel marketing content

do they consume?

What kinds of travel-related brands do they like?
Utilize a communication channel where your audience can interact with your content and with each other. This implementation can help you gain a strong understanding of the media they want to consume. The rest of your travel content marketing strategy will revolve around this key component. 
2. Develop a content calendar
Constructing a content calendar will not only help your team keep track of important step-by-step details and procedures, but it will also enable you to visualize the larger picture of your business. Don't bite off more than you can chew at first, and work incrementally! That is the key to crafting a successful content calendar.
Editorial work: The first step is to build your editorial portfolio—that is, the ideas and inspiration for your travel marketing content. Have your team store their input and thoughts on the same, easily-accessible platform to promote collaboration and streamline efficiency. 
Formats: Here is an excellent chance to delve into your creativity! Finding an engaging way to stylize your editorial content is essential to boosting user engagement. Here are a few examples of different mediums to bring you content to life: 
Blog posts: A great way to drive organic traffic to your website. 

Email marketing: Keep your audience up to date with your business' latest news and special offers.

High-quality videos: An enticing format for destination guides and insider tips on Instagram Reels, TikTok, and YouTube. 

Podcasts: A voice-first approach that is excellent for storytelling. 

Social media infographics: Combine practical information with compelling visuals in the form of destination highlights, insider tips, and travel guides. 
Organize your calendar: Decide on a publication frequency for your content. As a small business, it is important to consider your team's resources and bandwidth for your travel content marketing. Analyze your audience's behavior and engagement to adjust your publication frequency as needed. 
Here are some content calendar and task management platforms that work great for small teams: Airtable, Loomly, Notion, and Trello. These platforms have their share of benefits and downfalls, so experiment with them to find which one suits your team best. Google Calendar, Google Sheets, and Microsoft Excel are also options, although they may offer less tools and take longer to establish. 
3. Utilize search engine optimization (SEO)
Researching effective keywords for your travel marketing content can help small businesses rank higher on search engines. 
Choosing your keyword: Ideally, select keywords with a high search volume and a low keyword difficulty. However, as a small business, more specific keywords that have a lower search volume oftentimes have a higher likelihood of ranking. It's all about finding the right balance that works for you.
Optimize your keyword research by using free platforms such as Google Keyword Planner, Google Trends, Keyword Surfer, or Ubersuggest. They provide keywords difficulty scores, keyword suggestions, search volume data, and insights into competitors' top-ranking pages and backlinks. 
Placing your keyword: Effective SEO for travel content marketing is not just about how frequently you use your keywords but also where you place them. A general rule of thumb is to include it in your title, a subheading, your first paragraph, and your body text occasionally. You should place a variation of your keyword in your first subheading, second sentence, and in your body text occasionally. 
4. Grow your brand awareness and customer relationships
As a small business, your ability to build a relationship with your customers is one of your greatest assets. Create a platform on your website for user-generated content so travelers can share their travel reviews, photos, and testimonials. This communication channel will enable you to receive feedback from your audience and drive user engagement to your website. 
A great way to enhance brand awareness is to collaborate with travel influencers and travel publications on sponsored content. These partnerships will help establish your authenticity and credibility in the industry. 
5. Analyze your performance and improve your strategy
A crucial part to successful travel content marketing is setting clear, measurable goals. Using Google Analytics and Google Search Console, analyze key performance indicators (KPIs) based on the following metrics:
User behavior: the number of users and sessions from direct, email, organic, and social channels

Engagement: click-through rate (CTR), engagement rate, and total clicks

SEO results: average position, organic keywords, organic traffic, and traffic value
Explore the many other insights that these tools provide and review your KPIs on a regulated time frame. Overtime, you will be able to detect patterns and areas of improvement that you can use to shape your travel content marketing approach. 
Conclusion for travel content marketing for small businesses
In the competitive world of travel, content marketing is one of the most effective ways to capitalize on the benefits of having a small team. At Jelloow.com, we understand the insight and resources it takes to create successful travel marketing content. We are here to help you find the right marketing agency for your business.
Jelloow is here to smooth out any wrinkles you may find with a marketing agency relationship. Say you find the perfect agency for you and there have not been any problems. That is great and we are happy to help! There is also the other side of things where you may find yourself in a toxic marketing agency relationship and need help finding a new one. We are also here for you during that time as well. Jelloow is always here to make sure you are satisfied.