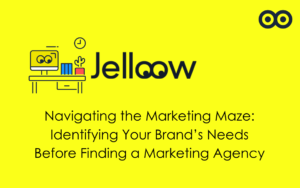 Sept 2023
Navigating the Marketing Maze: Identifying Your Brand's Needs Before Finding a Marketing Agency
In the ever-evolving world of business, where competition is fierce and customer expectations are soaring, effective marketing has become the cornerstone of success. However, the journey towards impactful marketing begins not with finding the right agency, but with a clear understanding of your brand's needs. Before you embark on the quest for the perfect marketing partner, take a step back and ask yourself: Do you truly know which marketing services your brand needs?
1. Crafting Your Marketing Blueprint
Define Your Goals: Every marketing journey begins with a destination in mind. What are your brand's objectives? Are you aiming to boost brand awareness, increase sales, or engage with a specific audience? Clarity on your goals will guide your choice of marketing services.
Know Your Target Audience

: Understand who your customers are and what they seek. Are they active on social media, do they prefer email communication, or do they engage with video content? Knowing your audience's preferences will help you select the right channels and strategies.

Assess Your Current State

: Take stock of your existing marketing efforts. What strategies are yielding results, and where are the gaps? An honest assessment will reveal areas that require reinforcement.

Budget Considerations

: Your budget shapes the scope of marketing services you can invest in. Determine how much you're willing to allocate to marketing and find services that align with your financial capacity.
Marketing Services Menu: What Do You Need?
Digital Marketing: In the digital age, online presence is paramount. Services like SEO, social media marketing, content creation, and email marketing help you connect with a global audience.
Branding and Identity

: If you're in the early stages or looking to rebrand, services related to brand development, logo design, and messaging will be crucial.

Influencer and Outreach

: Collaborating with influencers and building relationships with your target community can accelerate brand exposure.

Paid Advertising

: Google Ads, social media ads, and display advertising can effectively boost visibility and attract leads.

Public Relations (PR)

: PR services help manage your brand's reputation, secure media coverage, and handle crisis communication.

Analytics and Reporting

: Monitoring campaign performance through analytics provides insights into what's working and what needs adjustment.

Content Creation

: Quality content is the fuel that drives digital marketing. Whether it's blog posts, videos, or infographics, content creation services are vital.

Web Development

: If your website is the primary touchpoint for customers, investing in web development and user experience enhancements is essential.

Event Marketing

: If your brand participates in or hosts events, event marketing services can help ensure their success.
The Importance of Alignment
Selecting the right marketing services requires alignment between your brand's unique characteristics and the strategies that will best resonate with your target audience. It's not a one-size-fits-all scenario. Your industry, niche, and brand identity play a pivotal role in determining the most effective avenues.
Partnering with the Right Marketing Agency
Once you've gained clarity on your brand's marketing needs, finding the right agency becomes a strategic process. Look for agencies that specialize in the services you require, have a track record of success, and resonate with your brand's values.
Save time and work with a marketing matching partner like Jelloow.com
Transparency Matters: An agency that is open about their processes, pricing, and strategies is more likely to work collaboratively with you.
Experience Counts

: Look for agencies that have experience working with brands similar to yours. Their understanding of your industry can prove invaluable.

Customized Solutions

: Your brand is unique, and your marketing approach should reflect that. Seek agencies that offer tailored solutions rather than generic packages.

Analytics-Driven Approach

: A data-driven agency that emphasizes measurement, analysis, and optimization can ensure your marketing efforts yield tangible results.
In the fast-paced world of marketing, finding the right agency isn't just about outsourcing tasks—it's about partnering with experts who can elevate your brand's presence and impact. Armed with a clear understanding of your brand's needs, you can confidently navigate the marketing maze and embark on a journey towards success. Use the rigth marketing agency & marketing services with jelloow.com  
Jelloow is here to smooth out any wrinkles you may find with a marketing agency relationship. Say you find the perfect agency for you and there have not been any problems. That is great and we are happy to help! There is also the other side of things where you may find yourself in a toxic marketing agency relationship and need help finding a new one. We are also here for you during that time as well. Jelloow is always here to make sure you are satisfied.