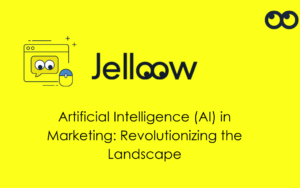 Sept 2023
Artificial Intelligence in Marketing: Revolutionizing the Landscape
In the ever-evolving realm of marketing, a revolutionary force is swiftly taking center stage—Artificial Intelligence (AI). This powerful technology is reshaping the way businesses approach marketing strategies, propelling them into a new era of efficiency, personalization, and strategic insight. From automating tasks to predicting customer behaviors, AI's transformative impact is undeniable. In this comprehensive blog post, we'll delve deep into the myriad ways AI is shaping the marketing landscape, its benefits and challenges, and the exciting future that lies ahead.
How AI is Being Used in Marketing
AI is an omnipresent force, seamlessly integrating into various aspects of marketing:
Personalization and Customer Insights: AI algorithms analyze extensive customer data, enabling brands to create hyper-personalized campaigns. From targeted recommendations to tailored emails, AI transforms every interaction into a unique experience.
Chatbots and Customer Support: AI-powered chatbots provide instant responses, enhancing customer engagement and support 24/7. These virtual assistants handle inquiries efficiently, streamlining the customer journey.
Predictive Analytics: AI analyzes historical data to predict future trends and customer behaviors. Brands can anticipate demand, optimize pricing, and tailor offerings based on these predictive insights.
Content Creation: AI-generated content is becoming more sophisticated. From writing product descriptions to crafting marketing emails, AI aids in content creation, saving time and effort.
Social Media Management: AI tools monitor social media platforms, tracking brand mentions, sentiment analysis, and engagement patterns. This data helps refine social media strategies.
Programmatic Advertising: AI automates the process of buying and placing digital ads, ensuring they reach the right audience at the right time, optimizing campaigns for maximum impact.
The Benefits of Using AI in Marketing
Enhanced Efficiency and Automation
AI's ability to automate repetitive tasks liberates marketers from mundane activities. This efficiency allows them to focus on strategic planning and creative endeavors, amplifying productivity.
Hyper-Personalization
Personalization becomes an art form with AI. Brands can deliver tailored content, offers, and recommendations, fostering stronger customer connections and driving conversion rates.
Data-Driven Insights
AI's data-crunching prowess extracts insights from vast datasets, providing invaluable information about customer preferences, behaviors, and emerging trends. These insights empower data-driven decision-making.
Real-time Customer Engagement
Chatbots powered by AI offer real-time responses, ensuring customers receive immediate assistance. This quick engagement enhances customer satisfaction and loyalty.
Optimized Marketing Campaigns
Predictive analytics allow brands to fine-tune marketing strategies based on data-driven forecasts. This optimization increases campaign success rates, minimizing wasted efforts.
The Challenges of Using AI in Marketing
Data Privacy and Security
The use of customer data in AI-powered campaigns raises concerns about data privacy and security. Striking a balance between personalized experiences and safeguarding sensitive information is crucial.
Quality Control in Content Generation
While AI-generated content is advancing, ensuring the quality and authenticity of such content remains a challenge. Human oversight is essential to maintain brand integrity.
Implementation Complexity
Integrating AI tools into existing systems can be complex and requires technical expertise. Businesses must invest in training and resources to ensure smooth implementation.
The Future of AI in Marketing
AI's journey in marketing has only just begun. As the technology evolves, we can anticipate:
Advanced Personalization: AI will deliver even deeper personalization by leveraging real-time data streams, providing instantaneous and highly relevant interactions.
Hyper-Accurate Predictions: AI's predictive capabilities will become more accurate as machine learning algorithms continue to refine, aiding businesses in forecasting with precision.
Augmented Creativity: AI tools will assist in creative endeavors, generating content ideas, visuals, and even suggesting innovative campaign strategies.
Ethical AI Use: Ethical considerations in AI adoption will gain prominence. Brands will strive for transparency in AI-driven decisions and ensure data privacy compliance.
Collaboration, Not Replacement: AI will augment human capabilities, not replace them. The synergy between human creativity and AI-driven insights will yield unparalleled results.
Conclusion on how AI  is rapidly transforming the marketing landscape
The transformational power of AI in marketing is nothing short of awe-inspiring. From automating routine tasks to predicting customer behaviors, AI is rewriting the rulebook of marketing success. As businesses continue to harness its capabilities, they will unlock unprecedented efficiency, personalization, and data-driven precision. The journey has just begun, and as AI evolves, so will our strategies, ultimately redefining the very essence of what it means to connect with customers in the digital age.
Find today your marketing partner with jelloow.com and scale up your business game.
Jelloow is here to smooth out any wrinkles you may find with a marketing agency relationship. Say you find the perfect agency for you and there have not been any problems. That is great and we are happy to help! There is also the other side of things where you may find yourself in a toxic marketing agency relationship and need help finding a new one. We are also here for you during that time as well. Jelloow is always here to make sure you are satisfied.