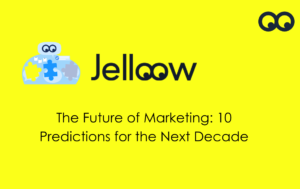 Sept 2023
The world of marketing is constantly changing, and it can be difficult to keep up with the latest trends. But if you want to stay ahead of the curve, it's important to understand what the future holds for marketing.
In this article, we will explore 10 predictions about the future of marketing. These predictions are based on the latest trends in marketing and the insights of experts in the field.
10 Predictions for the Next Decade
The Rise of Influencer Marketing: Influencer marketing is already a powerful tool, and its significance is only set to amplify. As consumers increasingly trust influencers' opinions akin to recommendations from loved ones, a skilled marketing agency can identify the right influencers for your brand, enabling you to leverage their authenticity and connect with your target audience more effectively.
The Growth of Augmented Reality (AR) and Virtual Reality (VR): The potential of AR and VR is immense, but navigating their implementation can be complex. A proficient marketing agency can craft AR and VR experiences that resonate with your audience, ensuring they not only engage with your brand but also experience it in ways that leave a lasting impact.
The Increasing Importance of Personalization: Personalization is the cornerstone of meaningful connections, yet tailoring messages requires intricate data analysis. A capable marketing agency possesses the expertise to gather and interpret data, helping you curate personalized campaigns that build rapport and loyalty among your customers.
The Rise of Social Commerce: Social media's commerce potential is on the rise, requiring a strategic approach. A skilled marketing agency can develop a seamless social commerce strategy, allowing your brand to harness the full potential of social platforms for both customer engagement and direct sales.
The Importance of Data-Driven Marketing: Data's role in shaping marketing decisions cannot be understated. An adept marketing agency can transform raw data into actionable insights, guiding your campaigns toward better targeting, relevant content creation, and ultimately, enhanced customer experiences.
The Focus on Sustainability: Sustainability isn't just a trend—it's a moral obligation and a selling point. An experienced marketing agency can help you communicate your sustainability efforts effectively, amplifying your brand's values and attracting environmentally-conscious consumers.
The Rise of Artificial Intelligence (AI) in Marketing: AI's potential in marketing is vast, but its complexity requires expertise. A proficient marketing agency can integrate AI applications seamlessly, from chatbots to predictive analytics, enhancing customer interactions and automating tasks for optimal efficiency.
The Growth of Programmatic Marketing: Programmatic marketing's efficiency is undeniable, yet mastering its intricacies is a skill. A skilled marketing agency can navigate programmatic campaigns, ensuring your brand reaches the right audience at the right time, driving engagement and conversions.
The Decline of Traditional Media: Digital platforms dominate the marketing landscape, necessitating a shift in strategies. A knowledgeable marketing agency can guide your transition to digital, crafting campaigns that resonate in online spaces, effectively reaching your target audience where they are most engaged.
The Rise of the Customer Journey: Understanding the customer journey is key to impactful marketing. A strategic marketing agency can map out this journey, tailoring campaigns that address specific customer needs at various stages, fostering deeper connections and guiding them toward conversion.
The future of marketing is full of possibilities. By understanding the trends that are shaping the industry, marketers can create marketing strategies that are effective in the digital age.
In an evolving marketing landscape, jelloow.com stands as a strategic partner. Their expertise, coupled with your brand's vision, helps you navigate trends, maximize opportunities, and engage your audience in ways that lead to lasting success. With their support, your marketing efforts will not only adapt to change but thrive in it.
Jelloow is here to smooth out any wrinkles you may find with a marketing agency relationship. Say you find the perfect agency for you and there have not been any problems. That is great and we are happy to help! There is also the other side of things where you may find yourself in a toxic marketing agency relationship and need help finding a new one. We are also here for you during that time as well. Jelloow is always here to make sure you are satisfied.