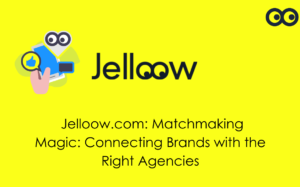 Sept 2023
In a rapidly evolving digital landscape, the power of effective marketing cannot be underestimated. Brands worldwide are striving to make their mark in a sea of competition, and the journey begins with identifying the right marketing services that align with their unique needs. Enter Jelloow.com—an innovative platform that is transforming the way companies approach their marketing strategies by offering personalized, data-driven solutions.
Cracking the Marketing Matching Magic: A Diagnostic Approach
One of the most common challenges companies face is deciphering their exact marketing needs. Often, businesses find themselves lost in a plethora of options, investing valuable resources in services that might not align with their goals. This is where Jelloow.com steps in with its groundbreaking approach.
Holistic Profiling: Jelloow.com understands that every brand has a distinct identity and a specific set of challenges. By conducting a comprehensive brand profiling, Jelloow.com takes into account both soft and hard factors that influence a brand's marketing requirements. From industry dynamics to target audience preferences, Jelloow.com creates a holistic profile that forms the foundation for customized strategies.
Dynamic Questionnaire: The heart of Jelloow.com's approach lies in its dynamic and personal questionnaire. This isn't just any questionnaire—it's a meticulously crafted tool that digs deep into a brand's ethos, objectives, pain points, and aspirations. The questions go beyond surface-level inquiries, delving into the very core of what makes the brand tick.
The Jelloow.com Diagnose: Precision in Action. Once the dynamic questionnaire is completed, Jelloow.com performs its magic. The platform's cutting-edge algorithms analyze the responses, dissecting the information to unveil the precise marketing needs of the brand. It's like having a team of expert marketers scrutinizing every detail to ensure that the strategies proposed are tailor-made for the brand's success.
Saving Resources, Maximizing Results to Connect Brands with the right Marketing Agencies
The impact of Jelloow.com's diagnostic approach is multi-faceted. Companies that often find themselves overwhelmed with vague marketing directions now have a clear roadmap. This not only prevents wastage of resources on unnecessary services but also ensures that every investment is strategically directed towards initiatives that yield maximum results.
Matchmaking Magic: Connecting Brands with the Right Agencies
Jelloow.com doesn't stop at diagnosis—it takes the extra step to ensure that the brand's needs are matched with the right marketing agency. Armed with a profound understanding of the brand's profile and requirements, Jelloow.com employs its expertise to curate a list of agencies that align with the brand's objectives. It's like a matchmaking service for the marketing world, ensuring a harmonious partnership between brand and agency.
A Glimpse into the Future
The visionary approach of Jelloow.com isn't just a solution for today—it's a glimpse into the future of marketing. As the digital landscape continues to evolve, the need for personalized, data-driven strategies becomes paramount. With Jelloow.com pioneering this approach, brands can rest assured that their marketing endeavors are backed by precision, innovation, and strategic insight.
Conclusion: Empowering Brands, Elevating Marketing
Jelloow.com isn't just a platform—it's a game-changer. By seamlessly integrating cutting-edge technology with expert marketing insights, Jelloow.com empowers brands to unlock their true potential. No longer will brands wander in the marketing wilderness; instead, they'll embark on a strategic journey that leads to brand success and industry recognition. With Jelloow.com, the future of marketing is personalized, precise, and profoundly impactful.
Jelloow is here to smooth out any wrinkles you may find with a marketing agency relationship. Say you find the perfect agency for you and there have not been any problems. That is great and we are happy to help! There is also the other side of things where you may find yourself in a toxic marketing agency relationship and need help finding a new one. We are also here for you during that time as well. Jelloow is always here to make sure you are satisfied.