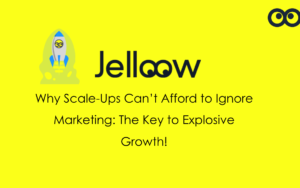 Aug 2023
Why Scaleups Must Prioritize Marketing
Over the past decade, I've had the opportunity to witness numerous businesses as they scaled up. These companies, starting with a single idea, gradually branched out into diverse sectors such as logistics, retail, or even global markets.
A recurring pattern I've noticed is that these companies often focus on expansion without adequate preparation. They frequently overlook essential elements like marketing strategies and software platforms, leading to underdeveloped concepts that undermine their potential success with new ventures. As a founder who has successfully scaled multiple startups, I can attest to the importance of investing in marketing when embarking on an ambitious growth plan.
In this article, we'll delve into why scaleups need to prioritize marketing and explore some cost-effective strategies that can propel your venture to new heights.
Decoding Scaleups
When a business evolves from a startup to an enterprise level, we refer to it as a scaleup. The initial phase of this process involves equipping each subunit (or unit) with its own marketing strategy and plan.
Scaling up requires businesses to invest in the creation of comprehensive marketing strategies for all components of their company. After all, fostering awareness is crucial! To do so, you must seize every available opportunity.
Additionally, you can choose to engage an agency or self-finance an in-house strategy to better execute your efforts. If you are operating on a lean budget, consider leveraging digital advertising platforms like Google Ads; otherwise, you may opt for offline channels such as radio ads or billboards.
How Marketing Can Elevate Scaleups
If you are a self-starter, it can be daunting to hand over the reins of marketing to an agency. However, we at jelloow.com understand that agencies are not one-size-fits-all – they come in all shapes and sizes! Some may be better suited to assist with SEO; others may excel at PPC advertising; while still others have an affinity for social media marketing. It is essential for enterprises to have specialists who can provide them with guidance regarding various strategies so that their overall progress can be optimized across multiple channels.
The fact remains: you cannot rely on ancillary services like email marketing or PPC when trying to scale up your business. To remain competitive, it's crucial for marketers to invest in scalable campaign strategies that ensure maximum reach across various platforms; thus enabling greater sales and enhanced customer loyalty.
For instance, you could leverage platforms like Google Display Ads or Facebook Ads as part of your marketing efforts – both of which offer great potential for ROI and scalability! If you want more control over how your ads are configured, consider utilizing Jelloow.com; if you want more visibility into how your campaigns are performing then use Advanced Remarketing or Measurement tools such as Data Management applications.
The Consequences of Neglecting Marketing
Sometimes, the temptation is to neglect marketing and focus solely on product development. After all, it can be quite time-consuming! However, failing to invest in your brand presence likely won't yield any rewards whatsoever.
With a lack of marketing budget being one of the most frequent reasons for failure for startups, it's critical that you don't ignore it. Yet this is precisely what many companies have chosen to do; instead opting for resources allocated towards sales and engineering – leaving their mark on the industry while they wait for their revenues to climb!
A recent study revealed that 70% of B2B marketers are prioritizing sales over branding (and vice versa). If companies fail to invest in their brands, then they may find themselves at a competitive disadvantage within the marketplace.
The Importance of Finding the Right Marketing Agency for Scaleups
If you are struggling to generate traction for your product or service within the first few weeks of launch, lack of marketing can be a bewildering experience.
However, this does not imply that ineffective marketing practices will preclude successful growth; it only suggests that you should be focusing on more than one approach when planning out your strategy.
Fortunately, there is no need to reinvent the wheel when crafting your brand's marketing campaign! Define which channels you would like to utilize and then find an agency that can assist with creating an optimal strategy.
Investment in Marketing as a Scaleup
As your organization expands, so should your marketing budget. After all, proper investment into the channel will yield fruitful returns that can help propel your business forward at a rapid velocity.
To be sure, some marketers may thusly advise an expenditure of $100 per month as a starting point for a small-scale enterprise. As you scale up and add more resources to your team however – that figure can escalate quite markedly! Typically, professionals do not recommend devoting more than 10% of their overall capital outlay on marketing endeavors; this ratio typically falls within the range of 5:95 when it comes to scaling-up enterprises such as yours!
How Jelloow.com Can Assist
Marketing is a crucial component of any business success. This is especially true for startups, who often lack the funds to invest in such ventures as yet another investment in time and money – so it's imperative that they explore all possible avenues for growth.
With jelloow.com, you can easily create a robust, integrated marketing plan with an array of advertising options including Google Ads, Facebook Ads and Twitter Ads; social media ads; website analytics; mobile app • website optimization targeting users based on their location or browsing behaviors; and much more. You don't even need to be an expert at creating effective marketing campaigns! With this platform's help, we'll handle everything for you!
If your business is new, chances are high you've been operating in isolation, striving to amass as much web traffic as possible. Unsurprisingly, this has led to a dearth of visibility and recognition, leaving potential customers on the precipice of giving up their patronage altogether.
Marketing campaigns can be costly undertakings; however, it is worth investing in them if only to get the conversation started. Don't leave any stone unturned in this endeavor! When potential clients take notice of your presence online – and access information about your product or service – invariably those inquiries will lead to generating leads and eventually onboarding new customers.
Gain instant visibility and cultivate trust among prospective clients by investing in effective marketing campaigns that boost website traffic, social media presence and ultimately conversions.
Conclusion why Scaleups Need to Invest in Marketing
Did you know that a company's marketing budget should be commensurate with its sales revenue? The majority of companies in your sector are likely aiming to distribute their product or service in a cost-effective manner, while neglecting marketing at all. And, it's not just the smaller companies that are making this mistake – even some of the largest enterprises are failing to allocate adequate resources for their marketing plans!
If you're seeking to scale up, it is essential to allocate sufficient resources towards marketing. Investing in this area now will yield far greater returns than waiting until you reach a certain level of success – encouraging rapid growth and fueling the momentum needed for expansion into new markets.
Visit Jelloow.com and grow your company today
Jelloow is here to smooth out any wrinkles you may find with a marketing agency relationship. Say you find the perfect agency for you and there have not been any problems. That is great and we are happy to help! There is also the other side of things where you may find yourself in a toxic marketing agency relationship and need help finding a new one. We are also here for you during that time as well. Jelloow is always here to make sure you are satisfied.