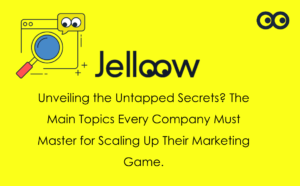 Aug 2023
For those who are new to marketing, it can be an intimidating task. Even experienced professionals can find it difficult to navigate through all of its intricacies and become successful in their endeavors.
Fortunately, we have crafted a guide that will assist you on your journey! We've combed through the literature to bring together strategies for scaling up your marketing efforts for success.
Topics to Master for Scaling Up The Marketing Game!
1. Data-Driven Marketing
Data-driven marketing encompasses the strategies that harness customer data and analyze it in order to gain a more thorough understanding of what your customers want. This knowledge can be utilized to create tailored strategies that suit their needs while offering maximum value in return.
It's now commonplace for companies to rely on sophisticated digital technology, including data analytics platforms – like HubSpot's Chatter tool, which provides an all-inclusive view of customers' perspective. By utilizing this resource alongside other available sources of information such as social media chatter and web searches – we can gain invaluable insights into how people think about our products and services!
By deploying a data-driven approach to your marketing efforts, you can gain access to valuable insights that allow you to craft customized messages for your audience. Furthermore, with its emphasis on providing user experience (UX) first design solutions for content creation or social media posts – as well as integrating advanced analytics software – this method will help you boost conversions and retain loyal customers.
2. Digital Transformation
If you're a veteran of the digital world, it's likely that your store has become accustomed with the familiar channels available to them. However, when it comes to maintaining success in this realm there is an ever-evolving set of circumstances and tasks required to keep pace – both on an individual level and across the board.
When you're investing in a digital marketing strategy, it's essential to be cognizant of what changes are coming down the pike; namely, technological advancements and their impacts on marketing strategies like yours.
To ensure your digital marketing efforts remain effective in the long term, you must stay abreast of emerging technologies and make adjustments accordingly. This could include altering your website design or introducing an entirely new type of ad campaign – all contingent upon what's most appropriate for your business at this moment in time!
Be sure that you're continuously monitoring trends and harnessing their potential to improve your online presence.
3. Content Marketing
If you're currently a startup or industry-focused organization, then it's likely that content marketing might be one of your more effective promotional strategies. This is because it offers numerous advantages over other digital channels; notably its accessibility and versatility, as well as effectiveness in reaching potential clients.
Creating engaging blog posts and creating quality infographics can help your brand establish itself as an authority in its niche market. By providing valuable information for those who are searching for answers, such as one offering on restaurant reviews – you can attract additional customers to visit your establishment!
Content marketing is an essential part of any business' strategy for scaling up. Investing in quality content creation initiatives can yield significant results – from increased brand awareness and traffic to new leads and sales opportunities!
4. Social Media Strategy
Social media accounts are an essential part of any company's marketing strategy.
Social media is a crucial communication platform for businesses as it allows them to reach out and interact directly with consumers; creating meaningful connections while also generating leads.
It is essential that your business has a cohesive strategy in place when operating on social media platforms. This will help you achieve greater visibility among potential customers, foster trust between the brands and create tangible business results.
Leveraging social media, you can connect more intimately with prospective clients, forge new relationships and build upon existing ones – all while securing valuable leads and opportunities!
5. Customer Experience (CX)
Customer experience (CX) is a strategic term that encapsulates the entire gamut of interactions between customers and businesses.
In today's interconnected world, businesses have to ensure an unparalleled standard of reliability when it comes to their dealings with customers.
Managing customer expectations plays a key role in making sure that they feel as if they've been well looked after – which is why CX offerings are indispensable in today's business landscape. Undoubtedly!
Utilizing the power of data and analytics, companies can harness customer behavior, gauge satisfaction levels and analyze customer feedback in order to optimize operations. By implementing these practices – along with delivering superior service experiences – any organization can achieve its ultimate goal of success!
6. Personalization
Personalization is a powerful concept that enterprises can harness to their advantage. It refers to the act of tailoring marketing messages, offers and other materials for each individual user – rather than treating everyone in the same way.
Exploiting personalization is one of the most effective strategies for companies who want to maximize their visibility across social media platforms and websites alike. Utilizing this approach allows you to cultivate an authentic rapport with customers and forge lasting relationships with them – all while generating buzz around your brand!
For instance, if you'd like to increase your reach on LinkedIn, you could leverage Personalization technology by tailoring your content toward various industry segments. If a particular group of individuals has shown attention towards your offerings – such as offering discounts or showcasing special offerings – then there's no doubt they will be eager to see what you have for them next!
7. Automation and AI
Many startups boast sophisticated means of pampering their customers' needs. This automated service can be accessed by an app or website and renders personalized services, such as scheduling deliveries for those who prefer it all handled for them – all with the click of a button!
Not only does AI offer a convenient way to streamline your processes; it also affords you more time for deeper exploration on matters that may not require human interactions at all.
8. Influencer Marketing
If you're new to the marketing game, chances are you could use a helping hand. That's where influencer marketing can come in! By partnering with the most prominent figures in the industry or niche market in question, businesses can harness their renown for garnering more traffic and sales across social media platforms – all without expending any additional resources on their part.
Influencer marketing is an effective way for enterprises to reach out to customers within their network and generate new leads or even boost existing ones. Done correctly, this strategy can provide enormous returns for your business and help it expand rapidly over time!
It's worth noting that some influential individuals also utilize this strategy for themselves – however, it doesn't mean they're not committed to providing value to their audience as well! One such example of an influencer who has both audiences and herself at heart is Joe Gagliese; Managing Partner at one of the world's most prominent digital agencies, Albino.
9. Multi-Channel Marketing
Multi-channel marketing is the art of leveraging all available channels to reach prospective customers effectively and efficiently.
With multi-channel marketing, you can achieve the best results in a cost-effective manner by optimizing your efforts across multiple platforms – such as digital media, email marketing and social media – while maintaining consistency between them. This ensures that your messages are reaching potential clients in an accessible fashion and offer an optimal experience for both parties involved!
Do not fret if you are just starting out with multi-channel marketing; it does not have to be an overwhelming endeavor! With a little effort, you can begin to establish a foothold for success by taking advantage of this approach today.
Ensure that your brand's presence is present across all current media channels (such as print publications, television commercials and even video game trailers), while also being mindful of new mediums where they may look to expand into! Keep in mind that successful enterprises must be prepared for whatever comes their way!
10. Performance Metrics and Analytics
Performance metrics and analytics are two key components for understanding how your marketing strategies are performing. By monitoring performance indicators, you can gauge the success of your efforts and identify areas for improvement.
In business, it is essential to track the effectiveness of your marketing campaigns over time in order to evaluate performance. This allows organizations to analyze their overall results and determine where improvements could be made in future efforts.
Review what analytics platforms are available to you and select those that will provide you with the most comprehensive reports. To ensure accuracy, utilize tools like Google Ads' Keyword Planner which provides an estimate as to whether a potential keyword is likely to yield ad clicks or sales; while remarketing platforms like Facebook Insights allow you access to real-time data on audience behavior such as responsiveness toward your advertisements!
Conclusion on the 10 Topics to Master for Scaling Up The Marketing Game!
The future for your business is limitless, so don't limit yourself with old-fashioned marketing strategies. By embracing innovative technologies like AI and AR, you can create a more dynamic experience for your customers and prospects; this could prove invaluable in promoting your brand!
To gain an advantage over your competitors, it is essential to unleash the untapped potential of your marketing plan; however, it requires effort and commitment from both parties. With Jelloow offer all the assistance needed to maximize performance!