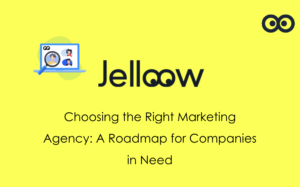 July 2023
In the rapidly evolving and digitally-driven business world of today, the importance of effective marketing cannot be overstated. For companies aspiring to distinguish themselves and achieve success, a robust marketing strategy is a must. However, the vast and ever-changing marketing landscape can be overwhelming, leaving businesses seeking expert assistance to navigate this complex terrain. The decision to choose the right marketing agency can be transformative, propelling your brand to new heights and driving substantial growth. In this blog post, we present a comprehensive roadmap to empower companies in making informed decisions, guiding them to find the perfect marketing agency that aligns seamlessly with their unique goals and vision.
Step 1: Define Your Marketing Objectives in Choosing the Right Marketing Agency
Before diving into the search for a marketing agency, it's crucial to have a clear understanding of your business's marketing objectives. Identify your short-term and long-term goals, target audience, and the key performance indicators (KPIs) you wish to achieve. Whether you aim to boost brand awareness, increase website traffic, or generate more leads, knowing what you want will guide you in finding an agency that can deliver results.
Some examples:
1. Boost Brand Awareness:
Objective: Increase brand visibility and recognition among the target audience.
KPIs: Measure brand reach, impressions, and social media engagement.
Example: Increase social media followers by 20% within the next six months.
2. Increase Website Traffic:
Objective: Drive more relevant traffic to the company's website to increase potential leads.
KPIs: Monitor website traffic, pageviews, and time-on-site.
Example: Achieve a 30% increase in website traffic through organic search within three months.
3. Generate More Leads:
Objective: Attract qualified leads and potential customers interested in the company's products/services.
KPIs: Track lead conversions and lead-to-customer conversion rates.
Example: Generate 100 new leads through email marketing campaigns within two months.
4. Improve Conversion Rates:
Objective: Optimize the website and marketing channels to increase the percentage of visitors who take desired actions (e.g., sign-ups, purchases).
KPIs: Analyze conversion rates for landing pages and sales funnels.
Example: Increase the website's overall conversion rate by 15% in the next quarter.
5. Enhance Customer Retention:
Objective: Strengthen customer loyalty and retention to increase repeat business.
KPIs: Measure customer retention rate and customer lifetime value (CLV).
Example: Increase customer retention by 10% through personalized email marketing and loyalty programs.
Establish Thought Leadership:
6. Objective: Position the company as an industry authority and thought leader.
KPIs: Monitor media mentions, guest articles, and social media shares.
Example: Get featured in at least three reputable industry publications as a thought leader within a year.
Expand Market Reach:
7. Objective: Enter new markets and reach a broader audience.
KPIs: Monitor market penetration and customer acquisition in new territories.
Example: Successfully launch and gain traction in three new international markets within six months.
8. Strengthen Social Media Engagement:
Objective: Foster meaningful interactions and relationships with the audience on social media.
KPIs: Track likes, comments, shares, and brand mentions on social platforms.
Example: Increase average engagement rate on social media posts by 25% in three months.
Remember that the marketing objectives should be SMART (Specific, Measurable, Achievable, Relevant, and Time-bound). These examples will help you define clear and tangible goals that will guide your search for a marketing agency that aligns with your company's needs and aspirations.
Step 2: Assess Your Budget and Resources
Marketing agencies come in various sizes and specialties, and their services can range from affordable to premium. Evaluate your budget and determine how much you are willing to invest in marketing efforts. Additionally, consider your internal resources and capabilities. Some companies may have in-house marketing teams that can collaborate with the agency, while others might require comprehensive marketing support.
Example 1: The Startup's Dilemma
Imagine a tech startup with an innovative product ready to disrupt the market. They have a limited budget but recognize the importance of marketing to establish their presence and attract early adopters. The founders sit down to assess their budget and resources realistically.
After carefully analyzing their financial projections and available funds, they set aside a reasonable marketing budget that aligns with their goals. However, they lack an experienced in-house marketing team. While they have some tech-savvy individuals who can handle basic social media and content creation, they understand the need for professional expertise to execute a comprehensive marketing strategy effectively.
After weighing their options, the startup decides to partner with a boutique digital marketing agency specializing in brand launches and growth strategies for startups. This agency offers tailored packages designed to accommodate smaller budgets and provide expert guidance in maximizing marketing impact. By leveraging the agency's skills, the startup can focus on developing their product while building a solid brand foundation without overextending their financial resources.
Example 2: The Established Company's Expansion
A well-established manufacturing company has been operating for decades and has a loyal customer base. However, they want to expand their market reach and explore new opportunities by tapping into e-commerce and digital advertising.
In this case, the company already has an in-house marketing department with experienced professionals. The internal team handles traditional marketing channels effectively, but they lack the expertise in digital marketing and e-commerce strategies.
To complement their existing resources, the company decides to collaborate with a full-service marketing agency that specializes in digital transformation and e-commerce optimization. This agency brings a wealth of knowledge and innovative ideas to the table, empowering the company's marketing team with fresh perspectives and cutting-edge tools to navigate the digital landscape successfully.
Together, the in-house marketing team and the agency work in harmony, seamlessly integrating traditional and digital marketing efforts. The company experiences a surge in online sales, expands its customer base, and solidifies its position as an industry leader, all while leveraging the combined strengths of their internal resources and the agency's expertise.
Example 3: The Growing SMB
A growing small-to-medium-sized business (SMB) has had steady success through word-of-mouth and local marketing efforts. Now, they are ready to take their business to the next level and establish a more prominent online presence.
The company assesses its budget and finds room to invest in marketing to fuel growth. They have a small marketing team in place but recognize the need for additional support to execute a robust digital marketing strategy.
After exploring their options, the SMB chooses to engage with a mid-sized marketing agency that offers a wide range of services. This agency understands the unique challenges faced by SMBs and offers personalized solutions that cater to their specific needs.
By collaborating with the agency, the SMB gains access to an extensive suite of services, including SEO, content marketing, and pay-per-click (PPC) advertising. The agency works closely with the in-house marketing team, providing guidance, training, and support to ensure that the company maximizes the impact of their marketing efforts.
The result is a successful online marketing campaign that boosts the company's website traffic, increases lead generation, and establishes their brand as a credible authority in the industry. The partnership with the marketing agency becomes a crucial catalyst for the SMB's continued growth and success in the competitive market.
In these examples, we can see how companies with different sizes, budgets, and internal resources can strategically assess their needs and collaborate with marketing agencies to drive success. Whether it's a startup, an established business, or a growing SMB, finding the right balance between internal capabilities and agency support can lead to exceptional marketing outcomes and business growth.
Step 3: Research and Shortlist Potential Agencies
With your objectives and budget in mind, begin researching potential marketing agencies. Look for agencies that have experience working with companies similar to yours and have a successful track record. Read reviews, case studies, and testimonials to gain insights into their expertise and client satisfaction. Create a shortlist of agencies that align with your needs and seem like a good fit.
As you embark on the journey to find the perfect marketing agency to propel your business forward, consider exploring an innovative and revolutionary platform that streamlines this process – Jelloow.com. Jelloow is not just your typical marketing agency directory; it's a cutting-edge company-marketing agency platform designed to simplify the way businesses discover, connect, and collaborate with the most suitable marketing agencies.
What is Jelloow.com?
Jelloow.com is a one-of-a-kind online platform that brings together companies and marketing agencies in a seamless and efficient manner. It is built with the vision of creating meaningful connections between businesses seeking expert marketing assistance and top-notch agencies with proven success records.
Discover Tailored Solutions
With your marketing objectives and budget in mind, Jelloow.com empowers you to explore a vast selection of marketing agencies, each offering tailored solutions to address your unique needs. Whether you aim to boost brand awareness, generate more leads, or establish thought leadership, Jelloow's comprehensive database of agencies ensures you find the right match for your business.
Experience Transparency Through Reviews and Testimonials
In your quest to shortlist potential marketing agencies, Jelloow.com offers unparalleled transparency through genuine reviews, in-depth case studies, and valuable client testimonials. Gain invaluable insights into an agency's expertise, project outcomes, and overall client satisfaction, empowering you to make well-informed decisions.
Leverage Success Stories
What truly sets Jelloow.com apart is its dedication to showcasing success stories from real businesses that have experienced remarkable growth and results through their agency partnerships. These inspiring stories illustrate how collaborative efforts between companies and marketing agencies can create transformative marketing campaigns.
Create Your Shortlist with Confidence
Armed with a wealth of information and an understanding of an agency's capabilities, you can confidently create a shortlist of marketing agencies that align with your business objectives and vision. Jelloow.com empowers you to move forward with certainty, knowing that each agency on your list has been carefully vetted and proven its expertise in driving tangible results.
Step 4: Evaluate Their Expertise and Approach
During the selection process, assess each agency's expertise in various marketing channels, such as social media, content marketing, SEO, PPC, or influencer marketing. Evaluate how well they understand your industry and target audience. Look for an agency that embraces data-driven decision-making and is adaptable to the ever-changing marketing landscape.
Here some examples at Jelloow:
Example 1: Social Media Expertise
If your company's marketing objectives heavily rely on a strong social media presence, evaluating an agency's expertise in this area is crucial. Look for evidence of successful social media campaigns they've executed for clients. Request case studies or examples of their work showcasing impressive engagement rates, follower growth, and brand visibility on platforms relevant to your target audience. An agency that can demonstrate a deep understanding of social media algorithms, trends, and best practices will be better equipped to drive impactful results for your brand.
Example 2: Content Marketing Prowess
Content marketing plays a significant role in attracting and retaining customers. When evaluating an agency's expertise in content marketing, ask for samples of their work, including blogs, articles, infographics, or videos. Assess the quality, relevance, and engagement levels of their content. A reputable agency will have a content strategy that aligns with your industry and target audience, demonstrating their ability to create valuable and shareable content that resonates with your customers.
Example 3: SEO Strategies
If improving your website's search engine visibility is a priority, delve into an agency's approach to search engine optimization (SEO). Inquire about their on-page and off-page optimization tactics, keyword research methodologies, and link-building strategies. Ask for examples of successful SEO campaigns and the resulting improvements in organic search rankings and website traffic. An agency that can showcase measurable improvements in search rankings and organic traffic is likely to have a strong grasp of SEO best practices and can drive increased visibility for your brand.
Example 4: PPC Campaign Performance
If your marketing objectives include driving immediate traffic and conversions, a proficient agency in pay-per-click (PPC) advertising is essential. Request insights into their approach to PPC campaign creation, ad targeting, and optimization techniques. Review case studies or performance reports that demonstrate their ability to achieve cost-effective results, such as higher click-through rates (CTR) and conversion rates while managing budgets efficiently.
Example 5: Understanding Your Industry and Audience
To ensure the agency truly comprehends your business, evaluate their understanding of your industry, products, and target audience. Look for agencies that have worked with companies in your sector before or have demonstrated a commitment to conducting thorough market research. An agency that grasps your industry's nuances and has a clear understanding of your customer personas will be better equipped to develop marketing strategies that resonate with your audience.
Example 6: Data-Driven Decision-Making
Data-driven marketing is the key to making informed decisions and optimizing campaigns for success. Inquire about an agency's data collection, analysis, and reporting processes. Agencies that rely on data-driven insights to guide their strategies are more likely to produce measurable results and continually refine their approach based on performance metrics.
Example 7: Adaptability in the Ever-Changing Landscape
The marketing landscape evolves rapidly, with new trends, technologies, and consumer behaviors emerging regularly. Assess an agency's adaptability and willingness to stay updated with industry changes. Ask how they incorporate emerging trends and technologies into their strategies. An agile agency that embraces change and continually seeks to improve its approach will be better equipped to keep your brand ahead of the curve.
By thoroughly evaluating each marketing agency's expertise in these areas, you can confidently select a partner that aligns with your company's needs and vision, setting the stage for a successful and rewarding collaboration.
Step 5: Communication and Collaboration in Choosing the Right Marketing Agency
Effective communication and collaboration are vital for a successful agency-client partnership. Arrange meetings with the agency's team to gauge their responsiveness, attentiveness, and willingness to listen to your needs. A great marketing agency will act as an extension of your team, working closely with you to ensure your objectives are met.
Step 6: Measure and Monitor Performance
Once you have selected a marketing agency and started your partnership, regularly monitor the results and performance based on the agreed-upon KPIs. Keep communication lines open and provide constructive feedback to ensure the agency can adjust their strategies as needed to achieve optimal outcomes.
Importance of Communication and Measurement in Agency-Client Partnership
Effective communication and measurement are the cornerstones of a successful agency-client partnership, and they play pivotal roles in driving the desired marketing outcomes. Let's delve deeper into why these aspects are so crucial and how they contribute to the overall success of the collaboration.
Context: Building Trust and Alignment
In any agency-client relationship, clear and open communication fosters a strong sense of trust and alignment. Regular communication ensures that both parties are on the same page, understanding each other's goals, challenges, and expectations. This alignment lays the foundation for a collaborative and productive partnership.
Effective Communication: A Two-Way Street
Effective communication between the client and the marketing agency goes beyond just providing instructions. It involves active listening, asking questions, and offering feedback. Clients must clearly articulate their marketing objectives, target audience, brand guidelines, and any unique challenges they face. On the other hand, the agency must ensure that they comprehensively understand the client's needs and vision.
Context: Navigating Evolving Strategies
In the fast-paced marketing landscape, strategies must evolve to keep up with trends and changing consumer behaviors. Regular communication allows for ongoing adjustments, refinement, and optimization of marketing campaigns. Without open lines of communication, missed opportunities for improvement can occur, hindering the achievement of desired results.
Collaboration: An Extension of Your Team
A great marketing agency doesn't merely act as an external service provider but rather becomes an extension of your team. They integrate seamlessly with your in-house marketing department, working collaboratively to develop strategies, creative concepts, and execution plans. This collaborative approach harnesses the collective strengths of both parties and paves the way for innovative and impactful marketing initiatives.
Context: Data-Driven Decision Making
Measurement and performance monitoring are fundamental to data-driven decision-making. Establishing key performance indicators (KPIs) from the outset allows both the client and agency to have a shared understanding of success metrics. Regular reporting and analysis enable the identification of trends, successes, and areas for improvement.
Measurement: Nurturing Growth and Improvement
Measurement and monitoring enable the identification of what works and what doesn't in marketing campaigns. It empowers the marketing agency to continuously refine their strategies and tactics based on real-time data. This iterative approach drives continual improvement, helping to achieve optimal outcomes and maximize return on investment (ROI).
Context: Responsive Strategy Adaptation
In the ever-changing marketing landscape, being adaptable is crucial. Continuous measurement and performance monitoring provide valuable insights into the effectiveness of ongoing campaigns. This data-driven approach allows for quick adaptations to strategies and tactics, ensuring that the marketing efforts remain relevant and impactful.
Conclusion in Choosing the Right Marketing Agency
Selecting the right marketing agency can be a transformative step for companies seeking to thrive in today's competitive business landscape. By defining your marketing objectives, researching and shortlisting potential agencies, and evaluating their expertise and approach, you can make an informed decision that leads to long-term success. Remember that a strong agency-client partnership built on trust, collaboration, and open communication will drive exceptional results for your brand, helping you achieve your marketing goals and reach new heights of success.
Jelloow is here to smooth out any wrinkles you may find with a marketing agency relationship. Say you find the perfect agency for you and there have not been any problems. That is great and we are happy to help! There is also the other side of things where you may find yourself in a toxic marketing agency relationship and need help finding a new one. We are also here for you during that time as well. Jelloow is always here to make sure you are satisfied.