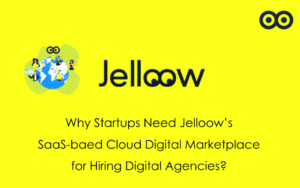 April 2022:
Imitating the real-time interaction between the digital agencies and the startups MINUS delivery delays, retention fees, and technology roadblocks!
The world is moving towards automation. If business processes can be automated, then so could the initial interaction and project sign-offs. This is crucial when you are starting your business journey and require digital marketing services, and are scared about the ordeal related to choosing the right agency partner. With limited budgets, big dreams, and quite scarce resources, if you thought hiring a digital marketing agency was a distant dream, then we're about to debunk your myths!
Here's where Jelloow enters to rescue startups and small companies. While we do the heavy lifting by analyzing, running a series of background checks, and customizing your options of potential agencies, we also assist you to optimize your marketing budget to get the best ROI!
Check out how a digital marketing platform, Jelloow, can help you:
1. Define Budgets for Running Campaigns
Whether you have to design the most trendy and out-of-the-box website or need a video animation that runs on the homepage, or want an expert to handle your social media pages- Jelloow has a customized solution for you.
Decide your budget, and let us find you the agencies that are best known for the services you need.
2. Get Options of Verified Creative Marketing Agencies
Our experts verify all accounts based on their credibility in the marketplace. When you hire an agency from our network, be assured that they are well vetted and the work done will be nothing less than perfect. Our Google Ads experts have been involved in producing $100,000 revenue with a base investment of $1500 in a short period for one of our clients.
3. SaaS-based Digital Marketplace
We create your personalized dashboard with a self-explanatory workflow. Here you can message and approach agencies that have the potential to win the bid. One-on-one secure conversation helps you to make the first contact without setting up any virtual or offline meetings. It's a big save on time and effort as you can sieve out the best options instantly.
4. No retention fee or service charges
With you controlling the pricing at your end, you avoid the retention fee or service charges. In fact, our agencies are happy to give you a free consultation in case you need a digital strategy to streamline the project.
5. Avoid delays and meetings for the simplest decision making
As a new-trepreneur, you need more than just peace of mind when it comes to showcasing your offerings to your audience. For an overall nurturing of leads to maintaining a high conversion rate, we help you to reach your milestones. We do this by allowing you to focus on what you do the best and let marketing discussion occur virtually. While you're always in the loop, our agencies provide you with 100% transparency. To gain your recommendation on Jelloow, they ensure that promises are fulfilled within the timeline and with utter client's satisfaction.
6. Utilize Jelloow Pay for transactions
Think your payments are not safe when it comes to paying the agency? We have the best solution to keep your transaction crystal clear- Jelloow Pay!
Utilize our very sturdy and secure getaway where you can pay exactly what your Work Statement says, and we take care of the rest. This way, you avoid any hidden or miscellaneous costs that could bother you later.
What do you think about our marketplace?
We are sure you're thinking if this means that your business can have its own marketing agency or not. So, a big yes! Jelloow is working for new businesses that are ready to launch to scale. We understand the pain first-hand of bringing up a company. And that's why we built a platform that empowers you.
If you think, you're interested to check out options- View Agencies!