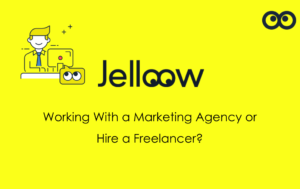 April 2023
Should I work with a digital marketing agency? Or hire a freelancer? … how do I choose?! Here some insights and tips working with a marketing agency or a freelancer.
Ever felt like, as a business owner or manager, you're juggling 10 things at once while spinning a few plates on your head? There are so many things to take care of, that sometimes it seems as if there are not enough hours in the day.
Below in short: some insights and tips working with a marketing agency or hiring a freelancer:
Tips Working With a Marketing Agency
First: What is a marketing agency?
A digital marketing agency is a group of marketers usually composed of either full-time employees or independent contractors that carry out marketing activities for clients. Projects could include social media marketing, email marketing, content writing, graphic design, marketing and business consulting, and much more.
Expertise: Marketing agencies have a team of experts with different specialties, providing a wide range of services and a depth of knowledge that a single freelancer may not have.
Scalability: Marketing agencies can handle larger projects and campaigns and are equipped to handle multiple projects simultaneously. This means that you can scale your marketing efforts as your business grows.
Resources: Marketing agencies have access to the latest technologies and tools to help you achieve your marketing goals. They also have established relationships with vendors, which can save you time and money.
Or Tips to Hire A Freelancer
First – > what is a Freelancer?
A freelancer is an independent marketing consultant who will most likely have some experience working for a big company in the past but will provide their services on their own. They are solely responsible for getting clients, delivering client projects, and getting repeat freelance business. The role of a freelancer could include a virtual assistant, writer, marketing consultant,stra tegist, or email marketer.
Cost-effective: Freelancers are usually more affordable than marketing agencies. This is because they don't have the overhead costs associated with running an agency.
Flexibility: Freelancers are typically more flexible with their time and can often accommodate last-minute requests or changes to your marketing plan.
Personalized attention: Working with a freelancer means you have one point of contact for all your marketing needs. This can lead to a closer working relationship and a deeper understanding of your business.
Let's ask some extra questions and tips in working with marketing agencies or hiring freelancers. Let's dive into them.
What stage is your company in?
There are important questions you should ask yourself to better understand the stage your company is in, and consequently, the level of support you need:
Do you have a clear value proposition?
Do you have an idea of who your target consumers will be?
Do you have a distinguishable brand identity, or are you looking for help creating that?
Do you have the marketing assets, or the skills to create them, to drive your brand forward?
You answered YES to the majority of these questions? Then hiring freelancers could be a good choice. With this option, you can reserve highly specialized support for one-off projects, and you have the ability to choose individuals whose skill sets are aligned with exactly the type of help you are looking for.
However, if you answered NO to the questions above, an agency could be the right choice, whether it's a full-service agency, an agency of brand specialists, an SEO agency, a web agency or another kind of agency. Agencies have the ability to facilitate growth and strategy development for your company at every stage, which can take the pressure off your internal team. Ps, Jelloow is a great place to find your marketing agency.
Ultimately, the decision between working with a marketing agency or hiring a freelancer depends on your specific needs and budget. If you're looking for a comprehensive marketing solution and have the budget to support it, a marketing agency may be the way to go. However, if you're looking for a more cost-effective solution, a freelancer may be the better choice. Just be sure to thoroughly vet any freelancer you're considering to ensure they have the skills and experience needed to deliver the results you're looking for.