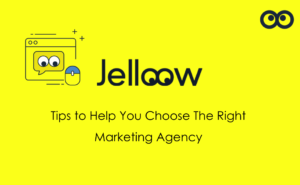 April 2023
Finding the right marketing agency can be a challenge and time consuming, but it's important to ensure you find a partner that understands your business and can help you reach your marketing goals. Save time, and read the tips to help you choose the right marketing agency:
We have listed a few key tips that will help you choose the right marketing agency
#1 Define your goals and objectives
Before you start your search, it's important to have a clear understanding of your marketing goals. This will help you evaluate agencies and ensure they have the expertise and experience to meet your needs.
#2 Do your research
You can use Google and other search engines, as well as industry publications and websites, to research potential agencies. Look at their portfolio, client testimonials, and awards to get a sense of their work and reputation.
Tip: Use Jelloow and save time to find your marketing partner. We have  5000+ global marketing agencies in our network.
#3 Make sure your selected agency understands your company values and products
Make sure the agencies you're considering have experience in your industry and with the specific marketing tactics you need. If you need help with digital marketing, for example, look for an agency with experience in that area. Use Jelloow to find your likeminded match, this based on your industry, budget, required services, etc.
As Agencies will specialise in different areas of marketing, so think about what it is you need to achieve. For example, is your website you main priority, or are you looking to generate leads for your sales team, or do you need an agency that can manage your entire marketing function? Do you need an agency that specialises in specific technologies, such as marketing automation? And whether you operate in the B2B or B2C market will have an impact, as marketing strategies do vary between the two.
Same for the industry. You will always be the expert in your industry, and the marketing agency you choose will always be the experts in marketing. A key skill set of an agency is their ability to adapt to different businesses and industries, so it's not vital that the agency you choose has experience in your sector. However there is an advantage of choosing an agency that has a good understanding of your industry, your customers, who the likely buyers are, the best channels to reach them and what marketing messages they're likely to respond to.
#4 Ask for their fields of specialization, portfolio, and references
If you do the research yourself, ask for references from each agency and take the time to talk to their previous clients. Find out what they liked and didn't like about working with the agency and how well the agency met their marketing goals.
If you work with Jelloow, these past examples will be given when you have a 'Meet & Greet with an agency.
#5 – Consider cost
Marketing agencies offer a range of services and pricing models, so be sure to get a detailed proposal from each agency you're considering. Compare the cost, services, and timeline to make an informed decision.
A lot of brands are afraid that agencies overpromise and underdeliver. Be aware of that.
#6 Pick the right marketing agency for you
Choosing an agency will also depend on the type of agency you need. More details you can find HERE in one of our other blog posts. 
Advertising Agency: responsible for creating product and service campaigns that leave a lasting impression on consumers. They are dedicated to conceptualizing, ideating, planning, and creating multi-level marketing campaigns for different channels — from television, print, radio, to the cyber depths of the world wide web.
Creative Agency: Building a brand from the ground up through the power of design — a.k.a. that time you gave in and bought something because of its attractive packaging — and creativity, businesses normally turn to the design wizards and strategists at creative agencies to make their once abstract ideas into reality.
Digital Marketing Agency/Performance Marketing Agency: provide companies the services — SEO content, Pay-per-click marketing and Social media ads — to scale and generate profit while letting business owners focus on what's best: the growth of their brand.
Media Agency: A wide range of media options, from programmatic buys, to social media, and for some, even on-ground experiential placements. But whatever the placement may be, a media agency helps businesses strategize on when and where to advertise, allowing them to reach their intended market in an optimal and timely manner.
PR Agency: they focus on amplification of editorial coverage on earned media, some examples would include native placements on publisher websites, sponsored content with bloggers, or even Instagram posts from influencers.
By following these tips, you can find a marketing agency that will help you reach your marketing goals and provide the support you need to grow your business.
Or easier, let jelloow.com help you in finding your marketing partner.