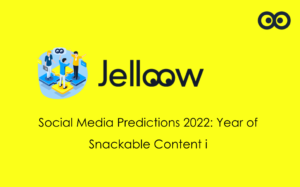 Jan 2022
Your target audience is available for a window of this average duration on the social media platform every day. The way you make them feel during this timeframe will reflect on what they think of you.
In Buffer's 2019 survey, 73% of marketers agreed that their efforts on Social Media Marketing (SMM) were 'somewhat effective' to 'very effective'. Because of these intriguing concepts of marketing, Social Media Today reports that 90% of users try to reach out to brands via these platforms.
Along with the bent of the audience towards social media, this year has also seen the rise of technological innovations. With the inclusion of IGTV, TikTok, Advertising Tools on social media; future strategies look anew to the experts and the brands.
Calculated Predictions for Social Media in 2022 Marketing
While the marketing decision-makers around the world are brainstorming to find the best way to level up their game in 2022, here's what we think of as a boutique digital marketing agency about the upcoming year's Social Media Marketing trends:
1. The New Screen for You - IGTV

An amalgamation of video features with an influencer platform like Instagram is a huge opportunity for marketers to grow their network and position their products & services organically. Wondering, how IGTV can be useful for your business?
Utilize Your Previous Content
Posted videos that were a huge hit previously? Great! No matter if it was a Facebook or Insta video or live-streaming, you can now put a long-format video content back there.
Convert Written Content Into Video
This trick has been used for many years now. As YouTube grew to its ultimate best, bloggers started to capture their audience by converting the written content into videos. That's the route to take as a brand now. Convert your manufacturing procedures, how-to guides, product info, services, etc into easy-to-understand videos.
With the freedom to publish long-format video content, you can create a series about your brand that could be shared at regular intervals. For your convenience, IGTV videos can now be organized under titles- a great tool for video creators around the Internet.
2. Build New Partnerships- Social Influencer Marketing
Find advocates for your brand. 2022 is going to be big for Influencer Marketing. Reason? With ample competition, your biggest challenge will be gaining the trust of your customers. With trust comes loyalty. Creating partnerships with influential people on the Internet should be the next thing on your mind.
Looking for influencers? Think beyond celebrities and go niche! Search for YouTubers, Instagramers with 100K+ followers, or social celebs who have created a community through their content. You need to capture:
Mega-influencers: 1 Million+ followers
Macro-influencers: 1,00, 000 to 1 Million followers
Micro-influencers: 1000-1,00,000 followers
Nano-influencers: Less than 1000 followers
3. Predictions on Next Giant of Social Media- TikTok
Debuting in September 2017, TikTok is the platform to watch out. Why?
1.5 Billion+ App downloads
41% of TikTok users are between 16 and 24
It is strictly fun and creative
In 2018, Guess partnered with TikTok to create the Hashtag Challenge- #InTheDenim where users had to share the best look in their Guess Denim. To get featured, Millennials and GenZ gave a roaring response to this campaign.
In one such campaign attempt, McDonald's in Malaysia launched #BigMacTikTok. Another TikTok partnership asked for reimagined musical videos by users using the tracks released by McD for this campaign. People earned Free Big Macs and Cash prizes as gratification.
With evidence of success, this platform is ready to be swirled over by strategies. And within a year, we will see how TikTok is the priority platform for targeting the youth.
4. The Face of Content v.2022 in Social Media
Content needs to be localized and personalized. If you want your message to go across your target audience then you need to speak in their language and produce content that relates to them.
Brands like Coca-Cola have accentuated the importance of local taglines all through their advertising strategy including the product packaging. Even, Netflix had to integrate local languages into their application so users can curate content based on their native spoken language.
To support the thought, 75% of users agree to prefer buying products marketed in their native language. Hence, in 2021, find your paid ads performing better with the help of localized content.
5. The New Fad- Social Listening Tools
Imagine getting into the brain of your target audience. Isn't it what every marketer ever wanted? With Social Listening Tools, you can actually find what your customer wants based on their online activities.
What difference can the Social listening tools bring into your strategy this year?
The Internet is a complex marketplace. Though it offers you an oyster of possibilities; you really got to break into these platforms. This is where these tools come to your rescue. Expect them to do:
Social media management
Sentiment analysis
Keyword Search
Detect Plagiarism
Monitor mentions that could potentially be converted into backlinks
Customers' predictive analysis
Market trends and needs and much more
Make no mistake when this year unwraps and brands start to pour witty strategy up for everyone's delight. For monitoring and staying relevant throughout the year, look out for social listening tools according to your requirement.
6. Marketing Technology Stack- The Futuristic Approach
Talking about MarTech is essential. Market research and data analysis have upscaled the marketing approach as being eloquent while maintaining ROI through campaigns is the prima facie of today's marketing.
Marketing Technology Stack which automates your research, shows the predictive mapping of your audience, and generates profitable plans, has taken the front seat. According to Marketing Whizz, Neil Patel, Hootsuite, Salesforce, Slack, Crazy Egg, and others are some of the must-haves on the list.
With gazillion bytes of information flooding around the Internet, an application that brings marketing and technology together is of paramount importance to garner and present data according to your requirements.
As a MarTech Consulting firm, we can't emphasize enough how substantially you can make your strategies talk to your audience using the right set of Marketing Technology Stack.
We believe predictions that are calculated have substantial importance. Hence, let's get into what experts from the giant companies have to say about social media marketing in 2022:
What COO of Strategem Ventures, Syed Laeeq Peeran thinks of social media strategies?
"Companies need to focus on the WHY of strategic marketing, not just the HOW and the WHAT. A holistic approach is a key to sustainable business growth."
What Marketing Head of Alyce, Daniel Rodriguez thinks of Campaign Engagement?
"It's not enough for a brand to put something out there in the world and measure impressions, you need to demonstrate people cared about your marketing campaigns enough to engage."
What Director of Product Management of Papa John's, Bernie Fussenegger thinks of Personalized and Localized Content in 2022?
"For 2021, companies must focus on their data and how they will use that data for more personalized and relevant content."
Thinking Out Loud?
Now when you understand what holds for 2022, let us help you to put two and two together. We declutter heaps of ideas and hand-pick the best ones for your business. To embrace this opportunity, we need to start with a visit to Jelloow.com now.
Let's sail through some great marketing tactics and ideas. You'll know that half the job is done seeing the expertise we bring to the table.