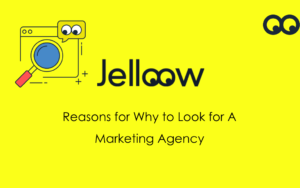 March 2023
Searching for the suitable partner who develops powerful and effective publications, marketing and communication campaigns for you? Every marketing agency differs greatly from one another. Not only in what they do, but also in how they do it. Every company has its culture, and this also applies to marketing agencies. Look for the one that best meets your needs and aligns with your values.
While there are so many agencies to choose from, Jelloow is a tool that can help you narrow down your search. Making it easy and accessible to give you even more reason to search for the perfect agency. If you give a clear and correct answer to all the questions, the number of possible agencies will shrink visibly. Until there are only about five left.
But, first you have to find answers. The first question you ask yourself is:
Why a new marketing partner? Why look for a marketing agency?
Different reasons for finding your marketing agency:
– You have been working with the same agency for years and are gradually getting tired of the campaigns they present to you. The relationship is becoming worn out. It's time for change
– When you started your business, you hired a marketing agency that happened to be nearby or aligned with your brand just at that moment. You have evolved in the meantime, but the marketing agency has not.
– Your company went through a serious upheaval. New services or products were added. You evolved from product to service provider. You grew from a local business to an international company. Your current agency cannot follow this evolution. Or it doesn't have enough capacity to meet all your needs.
– You need a specialized partner. For example, you want to start an online store or you take your first steps in social media. Marketing is so diverse today that not all marketing agencies are suitable for any assignment
– You are mad. Angry because the effect of the advertising campaigns is not what you expect. The results fall far short of the predicted prognosis. Angry, because crucial mistakes were made. Reason to say goodbye?
– Your regular contact person at the marketing agency changes agency or position. You are suddenly presented with another account manager, with whom things do not go so well. Or the creative team goes on an adventure. Not a ridiculous thought.
– In your own company, the marketing agency leaves its post. His successor sees no benefit in a collaboration with the current agency. He wants to change the shoulder of the rifle.
This and perhaps other reasons make you look for a new marketing partner.
With Jelloow, we help brands find their marketing partners. We can give multiple reasons why you need to find the right marketing agency. Get in touch with us and we can help you find your best fit.