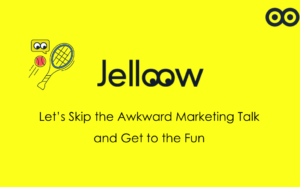 Nov 2022
How to make your brand a household name
Nobody likes the unnecessary arguments that go around during the holidays. Especially the pensive squabbles at the dinner table about politics, the weather, and whether Cousin Margie is going to get married anytime soon. Yeah, we don't like that either over here at Jelloow. We would rather hear about the big and upcoming brands at our dinner table. So why don't we hear about yours as well, let's show you how to make your brand a household name.
First things first, social media is the beginning of this journey. Social media is such an effective resource because not only can it give your brand a headstart, it can give it global reach. Mind you, not all followers are paying customers but it's one of the best ways to get your brand out there and make yourself known. One viral Tik Tok could earn your brand some real leverage in your niche. So creating social media accounts for your brand is a very good way to start.
Good advertising for your brand can get you where you need to be. Creating a social media account and playing with the algorithm is a great place to start, but advertising your brand with other brands is a good place to continue. When you collaborate or just advertise on popular pages, it allows possible consumers to be aware you exist and can lead them to your brand as well.
Creating good products can also get your name into the doors of family homes and on the dinner table as well. Your quality is very important because the less effort you put in the easier it will be to forget your name. Or you could be so bad that people complain about how bad you are, and that's not entirely a good thing. The better your product is, the more people will want to recommend your brand to others, and that way your brand can become a hot topic and this year's Thanksgiving.
Conclusion
There are many different types of content marketing tools that can help you with your work. We're glad you took the time to read through this article, and we hope it gave you a better idea of what is available.
Jelloow can help you find your content marketing agency for your Saas business.