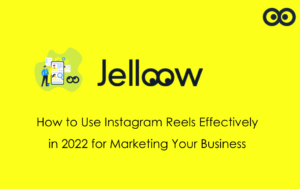 Jan 2022
"Marketing is no longer about the stuff you make, but about the stories you tell."- Seth Godin. A new year calls for a new approach. While talking about social media, Instagram Reel has seen a massive spike in users of different age groups and interests.
Instagram reels are short videos up to 60secs that are being used by businesses and individuals extensively to reach out to their target audiences on Instagram. These videos are editable, with creative tools such as music, text, AR filters, appealing backgrounds, or various effects to make your video unique and attractive. Earlier users got huge exposure on Instagram by using hashtags, and with reels posted from public accounts, they can reach an audience that doesn't even follow their performance. Isn't that great?
If you want to know how to use Instagram reels in 2022 to grow your business, we are here to help!
Research before you work on your goal.
Look out for your target audience: Before generating the strategy, look for basics. As per your business, study your target audience, what content they consume on Instagram, their demographics, interests, etc. Once you know your target, you are halfway to your goal.
Be a spy guy:

 If you want to nail the marketing game, always be aware of your market and competitors. Explore who your competitors are in the market and what they are doing. Honestly, this study will help you in becoming unique and original.
How to build a successful reel strategy?
Educate and generate: Quality over quantity is an indispensable digital marketing theory. Educate your audience by creating valuable content to develop your desirable outcome. Create videos for food recipes, tips regarding your business, daily hacks, testimonials, DIY or product information, whatever suits your business. If you can build their interest, you are moving in the right direction.
Entertain to sustain:

How about eating your favorite dish daily? Anybody would lose their interest. Similarly, in marketing, having a dynamic approach is the key. Entertaining the audience is as important as educating them, and your audience is always more interested in what you don't show than what you offer. So, show them behind the scene reels, bloopers, and videos that couldn't make it to your Instagram.

Motivation is the key:

Age, sex, gender, religion, no bar. Everybody needs some motivation to sail through the tough times or stay inspired to achieve their goal. Your diverse content strategy for reels needs to have some motivational words.

Feature, feature, feature:

No matter how challenging the times are, there's always a scope for some goodness. If you are doing something good for society or the environment, or you see somebody else doing it, feature them on your reels. It's not always about the perfect strategy, be real for a reel.

Follow the trend:

Just making the reel won't suffice for your business; dedicate your time to making reels that go viral. To ensure that, make your reels unique using trending videos, topics, songs, and filters.

Shout out loud:

Huge discounts or mind-boggling deals, whatever you have to offer, showcase in your reels.

An appealing offer or an irresistible deal has higher chances of getting your customer on your page.
Collaborate and accentuate:

Influencer marketing is a trend that you can't ignore while framing your marketing strategy. You can collaborate with trending influencers/bloggers for your reels to reach a wider audience. Consumers these days prefer products suggested by their favorite blogger/influencer than buying randomly.

Advertise to popularise:

 While using Instagram reels for your business, you can't let go of the chance to reach a vast audience that might be interested in your content. You can promote your Instagram reels with a paid budget and hit the bull's eye.
Cheat codes for a successful marketing game
The Three Seconder theory: Your success lies in the beginning 3secs of your video. If you can attract your audience in 3 seconds, they will grasp your content until the end of the video and become your prospective customer.
Hashtags and captions:

While you are working on the strategy for promoting your business through Instagram reels, don't forget to use the right hashtags and attractive captions too. Hashtags give you an added advantage to reaching a broad audience.

Music and text:

To make your video attractive, add interesting music and text. While music helps build user interest, the text will help you reach the audience that watches the reels on mute. The secret behind a trending reel is to use your music, be unique, creative, and out of the box.

Tag:

While your checklist is about to be completed, don't forget to tag the relevant accounts as per your niche/reel to reach a wider audience.

CTA:

If used correctly, CTA can do wonders. Direct your customers to your website, DM, contact, or form by adding a CTA in your caption.

Title:

Last but not least, add a title to your reel. A short and crisp title that explains your video will help build interest in the new audience to watch your video while they visit your profile and check out the reels tab.

Analyse and Implement:

 If you have implemented the above strategy well, it's time for you to track the performance of your reels. Use Instagram reels metrics to know your audience's accounts, plays, engagement, likes, dislikes, etc. Once you have analyzed the performance, prepare your strategy for the future creatively and smartly.
Find the best contractor marketing services
The one size fits all policy doesn't apply in digital marketing. Don't settle for ordinary, keep experimenting with the new trends and analyze what works the best for your business. Do what makes you stand out of the crowd.
Many of the jobs that we do online can now be done by digital marketing agencies. This is a great way to save time and generate more leads and attract more clients for your business, you can find different options at Jelloow marketplace.