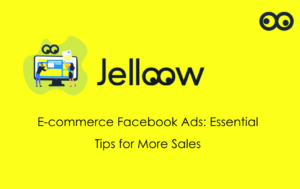 June 2022
E-commerce Facebook Ads: Essential Tips for More Sales
It is entertaining to see how the world of Social Media has utterly transformed since Facebook became, for lack of better terms, the G.O.A.T. of Social Media platforms. In over a decade, it has also become one of the most popular sites for generating business growth. I will say some of the most financially rewarding and popular merchant sites of Facebook include: Fashion, Make-up, Household Products, and Electronics.
Yet, no matter what your product is: Facebook's Ecommerce platform is an excellent choice to create a soaring business. Now if you want to take your business to the next level, here are some helpful tips to transform your site into the champion that you are. Products will be flying off the electronic shelves, so be sure to come prepared.
So let's talk about tips to generate the sales you are looking for.
Who's On the Market?
First and foremost, your products are on the market. That is why you are here actively seeking advice to better your business, better your life, and better your sales.
Be wary of your purpose, angle, target audience, and set goals for your sales.
What About the Competition?
There is absolutely no competition when you come in with purpose and never stop striving to reach for utter-perfection.
If your site isn't reaching the sales you so desire, it is due to the fact that you are out of alignment. It has nothing to do with any other site, instead it is your ignorance and refusal to trust your intuition.
Do not be stubborn: reevaluate, trust, and find your purpose. In your purpose, you will discover your voice. Every other marketplace that you admire is merely an echo of your own.
Learn from the Best
A book can change your life, a song can transform your mood, and an item can shift the energy of your household. When created with deliberate purpose, the product you offer to all can be beneficial to all.
If you are having a difficult time being receptive to others, this read is worth it.
Just like that, you were linked to a Marketplace. The Marketplace, Amazon.
Facebook is not quite there yet in terms of their offerings, but they are operating in an entirely different ballpark, due to the wide range they offer in terms of Branding and Products.
Everything in this world is connected and if you want to become a successful Entrepreneur, you must face intimate connections to all aspects of life. Do not just be a leader, learn and become the vision.
Building your Reputation
Without truth, beauty does not exist.
If you want people to know who you are/your business, you better know yourself/your business. The perfect line for this is from, the Florence + the Machine song: "Call Me Cruella."
"Beauty is the only thing that matters."
In other words, "Beauty is the main positive form of the aesthetic assimilation of reality, in which the aesthetic ideal finds its direct expression." -Karl Marx, German philosopher
Image is More than Everything
All you have to know is: keep it clean, communicative, and clear.
High-definition photos are just good pictures if you do not have a clear target. Images tell more than stories, they tell purpose.
Brand it Up!
If you are actively seeking to tug at the heartstrings of the world, your story matters. It matters so much and each and every day, no matter what you say: you are creating it. As in, a Legacy.
You can never truly make someone care directly for your personal story, however each and every day: you can wake up ready to share something that matters to you and trust that it will find the right people.
This step can be the tricky one.
Speak when you have something to say, not to make your brand look good.
Color me Crazy
This one goes without saying, but you should have a clear font set and color palette for all graphics shared on the site.
You want this to be McDonald's level good. People will come rushing to your site, because the colorations are driving them as mad as a dog in a July Storm.
Don't Make Me a Target
Facebook is well-known for having one of the largest marketplaces in the world. Yet, it also has great resources for creating targeted ad campaigns.
Let's Get Meta
Meta Pixel is a code that is meant to drive your business forward. Under Facebook Ads Manager, you can utilize MetaPixel and generate a code. It helps to optimize ads to better reach the targeted audience. For example, if an individual clicks a link on your website, Facebook will make note of their demographics and utilize it to drive your business forward.
Monitor Your Ads
If you want to ensure your Ecommerce Business is successful, be sure to monitor your advertisements and demographics.
By understanding your audience and which posts perform well, you will have a better understanding of how to succeed in the future.
To Conclude
Overall, there is a wide-range of work you can do to ensure that your Ecommerce site is successful.
Work hard every day to make real connections, create a solid strategy, and always offer your best to the world. It is certainly competitive out there, yet all resources remain at your fingertips.
It is your choice to embrace a strong, solidified, and stylish marketing technique that leads to engaged viewership and sales.
Check out Jelloow to find your paid ads providor.