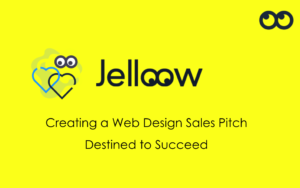 July 2022
No Easy Task
If there's one thing the pandemic did, it brought an army of freelancers back to the surface. We're talking freelancers that haven't even been on the market since 2008. With great motivation, everyone is slowly rebuilding their internal trust to accomplish the work they want to do. Gearing up is no easy process, but it is more difficult to keep the discipline and ambition needed to continue working when the results aren't coming in.
So the question remains, do you have the drive to continue to hustle or will you fold under the pressure?
If you want to create a Web Design Sales Pitch that'll last, well let's face it: we live in a world fueled by mediocrity. If you don't have the financial backing, your talent has to come through on all levels. You have to consistently be above your competition, have every move backed by a strong, never-fading internal sense of self.
It is not only about being strong mentally, never cease to take care of your body physically, and ensure that you are in a position where you are heard.
Be fearless. Be relentless. Be you. Own your vision, or someone else will own it for you.
Forget the Competition
Okay, so you have a vision and fortitude. If you are feeling discouraged, try again later.
So what's next?
Who are you trying to pitch the site to? Make it a mission to ensure they have instilled trust in you. Once they do, it'll be easier to present your character.
The little piece inside of you, dying to be seen that differentiates you from the world around you. If you want to make an above average salary, this needs to be not only formed, but honored.
Life's a Pitch!
Okay, so it's time to present. Now, this could easily go South like a Middle School presentation that you didn't quite prepare for, or it can be golden.
You will know when you have taken the time to cultivate a strong enough sense of self to push forward.
So, how's that Portfolio? Does it truly show your power or are you undermining yourself yet again?
The Portfolio to Another Dimension
If you want a portfolio that demonstrates your true character, be you. It's as easy as that. Too many people suggest that your portfolio should reflect the job/client that you are seeking.
Wrong.
Your portfolio should be an earnest reflection of your power, skills, projects, and creativity. You are an intelligent being of light, so why not be the leader you were destined to be?
Enough spiritual talk, let's get some Right Brain and Left Brain balance. Here's several ideas to include in that portfolio for your Web Design Sales Pitch:
Everyone loves a good before and after side-by-side comparison
Most recent projects and then a good collection of your best ones in chronological order
Testimonials

And if you're faking them, um. That's obvious and embarrassing.

The most important part

Is it made for mobile? It better be!
Reach for the Response
So you have what it takes, a badass portfolio, and your dreams are coming together!
Now here's the part that you only get one try at. The Pitch.
A good pitch is succinct, compelling, and well-spoken. You better know exactly who you are speaking to and what they need from you.
If you speak for more than twenty-five seconds on the get go, they are going to steamroll you.
Be strong, be kind, be brave, and be open to what is required of you.
Here are some tips for this segment of the process:
Have a universal plan set in place, because you will be reaching out to a lot of people

Email templates are great and helpful, but never be afraid to add your twist
Phone voicemail templates, because people are busy
Phone call templates are perfect for the early stages, but the more calls you go on- it'll come second nature.

Watch your language

Calling someone in London, England is going to be completely different than calling someone in America's lovely state of Florida.

Are you watching the language?
Key word: lovely

Make that connection!

A magician never reveals their secrets!

You either have to know what you are going to say or someone is going to say it for you.

If someone has to tell you how to build a connection, I don't know what to say chief!

Set boundaries

Make sure your salary required is set-in-place.

Don't go below your standards, never settle!
Know your worth ladies and gentlemen!

Negotiations that lower your true value are for…

Getting trampled!
Losing your internal sense of self!
Setting your power up to fail.
Hard Lessons End Well
A Web Sales Pitch is not an easy career to embark on, yet it is one that can be completely worth it. If you believe that this is the move for you, the world will believe you.
Build a strong foundation and don't look back. Reach out to those that you truly believe you can create a positive impact with through direct collaboration.
With the right direction, authentic voice, patience, skill, openness to learning & growing: you can become a successful Web Designer! Time to get on Jelloow.com
Best of luck.