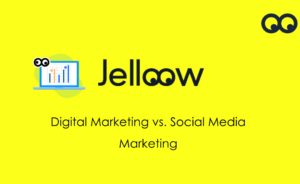 April 2022
What are the differences between Digital Marketing and Social Media Marketing?
Digital marketing is a broader term than social media marketing, referring to any marketing which uses digital tools. Digital marketing includes any use of social media.
Social media is a subset of digital marketing that focuses on building online communities around brands or products, usually through the acquisition and sharing of customer-generated content.
So, here's a cheat sheet for you to begin your search:
Five Ways in Which Digital Marketing Is Practically Undefinable
1. The digital space is an ever-changing place
2. Digital marketing is so big now that it's practically undefinable
3. The future of digital marketing looks very different from the present
4. Digital Marketing offers more opportunities than ever before
5. There are many places to find success in digital marketing
Six Essential Steps to Optimizing Your Sales Process with Digital Marketing
In order to be successful, all companies need to have a good customer acquisition strategy. A key part of that strategy is understanding the customer lifetime value. If we know the customer's lifetime value, we can set a realistic goal and plan on how much we want to spend for acquiring a new customer.
A personalized email campaign helps us stay in touch with our customers and reach out to them on a regular basis. It may be as simple as sending an email newsletter or as complex as sending personalized email messages that are triggered by their purchase behavior or some other action they take on our website.
With digital marketing, sales processes are made much more effective.
Digital marketing has made it possible to strengthen the sales process. With access to social media, prospects are able to find information about a brand with ease. This makes the likelihood of conversion much higher, as customers are confident in their purchase decision.
The first step in optimizing your sales process with digital marketing is to create a personalized email campaign. It requires you to find out which type of email will work best for different types of customers and tailor each message accordingly, preferably including an offer or incentive that would make them want to reply or click on it. The next step is determining what services are most relevant for each individual customer so that you know what are your customers needs.
The Five Categories of Digital Marketing Tools Every Business Needs to Have in Place
Digital marketing is the use of internet-based channels to reach out to target customers or prospects. The benefits are that you get access to customers who may not be aware of your product or service.
Most businesses need these six types of tools in order to get results:
– Web Analytics Tool
Google Analytics is a powerful tool that provides insights into a website's performance and how it is being used. It provides information on the number of active users, how they are using the site, and more.
It can show you which part of your website is most popular among your visitors, the average time spent on your site, what pages are being visited most often, and what devices people are using to access your website.
– Content Management Tool
The content management tool is software that is used to create, organize, and publish content on the internet.
WordPress is the most popular content management tool. Drupal is also a content management tool that is similarly popular with designers and developers.
– CRM Tools
CRM Tools are a set of technologies that help track and manage customer relationships from the perspective of a business. CRM Tools can provide insight into customer behavior, predict future actions based on past behavior, and identify potential risks.
The CRM market is dominated by Salesforce, which holds a 70% market share in this space. However, new players like Oracle and Hubspot are also competing for business with their own CRM products.
– Landing Page Builder Tool
Dominate your competitors with high-converting landing pages that are professionally designed, easy to edit, and fast to create.
The Landing Page Builder Tool enables marketers to create better landing pages faster. It gives you the power to design beautiful landing pages without any coding skills so you can spend more time testing and optimizing your campaigns.
– Social Media Management Tools
Social media management tools help digital marketers and agencies monitor their social media accounts and pages on a single dashboard. They also make sure that the content on the pages is up to date and relevant for the target audience.
Some of the popular platforms for social media management are Hootsuite, Sprout Social, Buffer, and BuzzSumo.
How Does Social Media Affect the Performance of a Brand?
Social media is often referred to as the "Wild West" of marketing. It's important to understand the differences between organic and paid social media promotion, and why they can affect a brand's performance.
When it comes to branding, the primary focus is on creating a positive impression of a company or product in the minds of consumers. Social media has become an integral part of branding because it allows for interaction and engagement with potential customers.
Social media can be used for organic or paid promotion. Organic promotion happens through unpaid posts that promote your company or product without any compensation while paid promotion means you pay to promote posts about your company or product through Facebook ads, Twitter ads, etc. Organic posts are typically seen as more trustworthy than paid posts because people find it more credible when you interact with them
The Benefits of Social Media Marketing in the Age of Digital Marketing
Social media marketing is a type of internet marketing that utilizes social networking websites, blogs, and other social media platforms to share content with a wide audience. When used in effective marketing strategies, social media has the potential to reach an enormous global audience.
The benefits of social media marketing include:
– Reach
– Cost
– Engagement
– Personalization
– Results in less time
What is Social Media Marketing?
Social media marketing is a way to promote brands, products, services, or public figures/entities. It uses social networking platforms to do so.
There are many benefits of social media marketing. The most obvious one is that it's free! You don't have to pay for advertisements on these platforms since they are already free.
Another benefit is the ability to reach your target audience wherever they are – it doesn't matter whether they are at home or in an office, at school or out shopping, at the park or the gym- you can connect with them through social media channels.
Furthermore, studies show that people who use Facebook and Twitter every day spend more money online than those who don't. So not only can you reach your audience easily but also encourage
How to Use Social Media for Your Business
You can use social media for business by posting about your products or services on these platforms to reach potential customers.
You may also want to use social media for customer service purposes. For example, if you are selling a product that is defective, you should ask the customer to contact you so that you can solve their problem. There are many other uses of social media for business, which makes it a crucial marketing tool in 2021.
Social media is another important channel to connect with customers, whether they are current or potential ones.
People use social media for many reasons, and because you're trying to market your business to them, it's important that you use it wisely.
Digital Marketing vs Social Media Marketing and How They Work Together
Digital marketing is the overarching term for the strategies and tactics that use digital and online channels to promote a product or service. Social media marketing is one form of digital marketing, but it's not the only form.
Digital marketing includes advertising, social media, SEO, content creation, and more whereas social media marketing includes Facebook Ads, Twitter Ads, Pinterest Ads etc.
Social Media Marketing depends on digital marketing but it also has its own methods of attracting customers such as testimonials through video or pictures and building a following through posting interesting content to engage with the audience.
What does a Digital Marketer do?
Digital marketing professionals, also known as 'marketers', are in charge of implementing digital marketing campaigns with the aim of boosting sales and increasing brand awareness.
Digital marketers are responsible for the management of all digital marketing activities across various channels like Google AdWords, Facebook Ads, Twitter Ads and SEO. Their duties include:
– Managing website traffic by optimizing landing pages and conversion rates
– Getting more followers on social media platforms like Facebook
– Creating blog posts that will go viral on social media sites like Reddit
– Creating compelling content that will be shared on social media platforms like LinkedIn
– Designing emails for email blasts to connect with their audience
What does a Social Media Manager do?
A social media manager oversees the social media presence of a company or organization. The digital marketing skillset is in high demand, so companies are hiring social media managers at an increasing rate.
A social media manager usually manages the following for their employers:
-Social Media Strategy: A plan that outlines their goals and objectives, content typology, frequency, timing, and volume.
-Content Development: Developing content that is engaging to followers and potential clients on a consistent basis. Posting this content to various platforms on a scheduled basis while also tracking analytics data for each post's performance
-Community Management: Responding to customer service issues via social media platforms and monitoring customer feedback across a variety of channels.
-Monitoring the Competition: Checking the competitive landscape.
How can Digital Marketing & Social Media Marketing work together for your Business?
Digital marketing is a subset of the wider marketing concept. Digital Marketing includes both traditional marketing and new media.
In the internet age, the digital promotion has become an integral part of all businesses that rely on customer acquisition for survival.
Digital marketing is an inevitable part of any business. With the rise of social media networks, new opportunities are opening up for digital marketers.
The Internet has made it possible to reach people across the world with just a few clicks of a button. The internet has also made the global competition more challenging than ever before.
Choose the Digital Marketing Strategy that Works Best for Your Business
Choosing the right digital marketing strategy for your business is an important decision. It is not just about what you are trying to achieve, but it is also about what you are trying to avoid.
A lot of businesses go with content marketing because they want to get better search engine rankings and drive more traffic to their site. However, this strategy comes with its own unique challenges that some businesses may not be able to handle.
Advertising on digital platforms like Facebook and Twitter can be an effective way of getting more visitors to your website, but it can also turn off some people who don't want all their personal information collected by companies.
Take Away:
While these are some of the best ways to learn more about your audience, you can also find help at no cost by consulting us! Go to Jelloow's network of agencies and push your queries to them. Support is right around the corner!