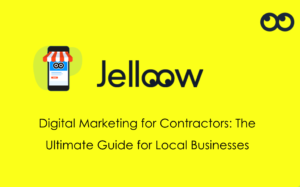 May 2022
Digital Marketing for Contractors: The Ultimate Guide for Local Businesses
It's no secret that the construction industry is thriving. The U.S. Bureau of Labor Statistics reports that 1 in 4 people work in some form of construction or service and the average annual wage for these industries is $36,200 (or $17 per hour).
Contractors come from all walks of life and they all have different needs when it comes to marketing their business to potential customers. This guide will help you better understand what you need to do to be successful with digital marketing for contractors.
Benefits of Working with Digital Marketing for Contractors
Marketing is important for contractors. It can help them reach out to a larger audience and grow their customer base.
Marketing has enabled contractors to create an online presence and reach out to a larger number of potential customers.
The benefits of digital marketing for contractors are:
– Increased awareness about the services offered by the contractor, thereby increasing their customer base
– Provided information about the contractor's products, thereby reducing the need for costly marketing campaigns such as printed brochures which can be expensive and time-consuming to produce
– Marketing campaigns can be simplified by using digital platforms, which helps cut down on the costs associated with running a marketing campaign
– Marketing campaigns will be more targeted as they can showcase specific aspects that differentiate a contractor from their competitors.
Different Types of Internet Marketing Strategies for Contractors
Inbound marketing strategy is a type of digital marketing strategy that uses content and inbound links to attract customers and prospects to one's website. The goal of inbound marketing is "to attract customers through their own curiosity, without traditional outbound techniques such as search engine optimization (SEO), search engine advertising (SEA), banner advertising, and display advertising."
A social media marketing strategy is a way for companies or individuals to create a promotional campaign through social media sites like Facebook, LinkedIn, YouTube, etc. One of the main goals of this type of campaign is to reach people who are interested in the business or product because they have liked the company's page on Facebook or followed them on Twitter.
Digital Marketing for Contractors: Finding and Building Your Target Audience
We conduct audience research to find people who are looking for our product or service. We then develop a marketing strategy to attract them and convert them into customers.
To find the right people, we need to do an in-depth research on keywords that are relevant to our business and target audience. Once we have identified these keywords, we build a funnel of related content to attract the potential customer and convert him/her into a paying customer.
Creating Your Content Strategy with high intent services and Calendar
A content calendar is a schedule of your planned content, created on a monthly or weekly basis. Content calendars can be created using a template or spreadsheet that you can fill in with your own information.
Content creation is not easy. It takes time to produce quality copy and it also needs to be consistent with an individual brand's voice and tone. Managing the creation of your content might seem difficult at first, but it doesn't have to be. You can create an effective content calendar which will make the process easier for you! This article will walk you through the process of creating an effective content calendar for your brand.
Advertising: Creating Ads and Emails to Promote Your Service Locally
In today's world, it is crucial to have a strong online presence. There are many ways in which you can market your services and build your business. One of the most innovative and interactive way to reach out to customers is through email marketing.
An email has a much higher chance of getting opened than a traditional ad and if you use the right tools, you can reach out to thousands of people at once.
Some of these tools include:
– Constant Contact: You can use this platform for building campaigns and sending them out on auto-pilot
– MailChimp: This is an excellent platform for sending one-to-one emails with subscribers
5 Digital Marketing Strategies for Contractors to Generate Leads & Attract Clients
Online marketing is the best strategy that contractors can use to drive traffic to their website. They can use various digital marketing strategies for this. Some of these are PPC advertising, search engine optimization, content marketing, social media marketing and influencer marketing.
Contractors should use these strategies to generate leads and attract potential clients.
PPC advertising is one of the most efficient methods for generating leads for contractors because it's more focused on targeting specific groups of consumers looking for their services. Contractors should be aware of the fact that they have to pay every time someone clicks on their adverts so they have to be selective about who they target with them or else they will spend all of their budget in no time at all.
Step 1. Build a Website with a Contact Form for a Professional Image
The website should have an intro paragraph about the company followed by 3-5 bullet points about the services they offer. The contact form should be at the bottom of the page, with an email address to send inquiries to, and a request for their name, email address, phone number and message.
They should also have social media icons that lead to their social media accounts.
Step 2. Optimize the Online Marketing with Search Engine Optimization Techniques
In this section, we will learn about the SEO techniques and SEM techniques that will help us rank higher in search engines.
SEO: In this section, we will learn about the SEO techniques and SEM techniques that will help us rank higher in search engines. Some of the easiest steps to implement are making sure our titles are descriptive and including keywords in our text, but there are many more that can be taken to ensure a good ranking.
SEM: SEM stands for Search Engine Marketing. This is a type of digital advertising where companies pay for their ads to show up at the top of search engine listings. Google Adwords is one example of a well-known SEM service provider.
Step 3. Design Social Media Pages across Platforms
Social media is a crucial aspect in the digital marketing world. It's one of the most powerful tools you can use to increase brand awareness, customer loyalty, and drive traffic to your site.
It's important that you design your social media pages across platforms with consistency. You want each page to be uniquely identifiable as yours while also conveying the same message to prospective customers.
This is where you should consider what images and colors work best for your brand, take advantage of opportunities for engagement with followers, and generate interest in your site or product by sharing helpful content.
Step 4. Create Content Which Competes in the Local Market with Relevant Keywords
Copywriters are the ones who will provide the content for your website. They can create posts, articles, blog posts, e-books, infographics, web copy and even video scripts etc.
Creating content for your website is not an easy task. Copywriters have to be aware of the latest online trends and what people want to read about in order to come up with something that will capture their attention. They also have to be good at building engaging headlines which are catchy enough for readers to click on them.
A copywriter should always make sure that his/her content is relevant to the readers of the target audience they are writing for because this will increase your chances of getting more traffic on your site.
The best digital marketing for contractors
Many of the jobs that we do online can now be done by digital marketing agencies. This is a great way to save time and generate more leads and attract more clients for your business, you can find different options at Jelloow marketplace.