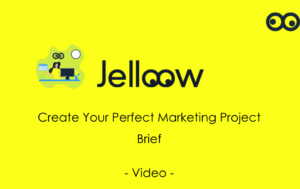 August 2022
When brainstorming ideas for a project, it can be easy to feel overwhelmed or to feel like you don't know where to start.
However, in order to find a marketing agency that is best suited to your company's needs, it is very important that you create a project brief so you can clearly articulate your expectations for the agency that you work with.  Today I will tell you how to successfully create a project brief, which will help our platform here at Jelloow connect you to the agency of your dreams.
COMPANY INFORMATION  – The first thing that you should include in your project brief is information about your company. We want to know things such as the size of your company, the industry you're in, your B2C and B2B transactions, and who your target audience is.
SMART GOALS – Next, we would like to know the marketing goal that you would like to achieve. What is your SMART marketing goal? Make your goal as concrete as possible to ensure your needs are being met.
MARKETING SERVICES – The third thing that you should include in your brief is a rough estimate of the services you think you'll need for your project. Don't worry if you aren't fully aware of what you need as agencies are here to guide you.
BUDGET – Next, it is important that you establish the budget for your project so that you avoid last-minute expenses, and you can inform us on how the budget will be spent on the project based on the things you'd like to achieve. Let us know what you can afford.
AGENCY REQUIREMENTS – Finally, let us know any additional expectations you have in order to define your finished project as successful, as we value our customer's satisfaction.
See the full video here:
How about Jelloow? Here at Jelloow , we use KPIs to set progressive goals, including how to find the best agencies for our consumers. In addition, Jelloow helps brands create their own KPIs and prioritize their projects. We use marketing/Al technology to affiliate your company directly and efficiently to one of our Marketing Agency Partners.
Keep up the good work and all the best for your future endeavors!