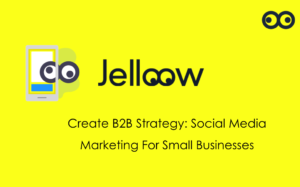 Oct -2021
"LinkedIn is not the only channel for social media marketing for small businesses."
Most companies dealing with other businesses assume that LinkedIn is the only channel to gauge more traffic and clients for your business. And that's a flaw! Let us help you understand why.
What does social media marketing for small businesses look like?
We all know, digital marketing is an inevitable aspect of brand building and sales of your products and services. And even though LinkedIn is the leading channel for B2B companies, your marketing strategy is incomplete without other mediums onboard. Your end consumers and direct clients are more than on one platform. By including other channels into your strategy, you convert more of the lost potential and actively remarket your brand.
However, it is important to mold the information into the pattern, trend, and algorithm of the subjected platform. Companies have a lot to ponder upon before sending out the brand message. Let's dwell on what you need to care for and how to project it using different platforms as advised by small business marketing experts:
1. Customer-Centric Content
Customers are looking for information. They are hungry to know more.
Even today, most businesses make the same old mistake of just sharing posts that talk about buying services and products. Especially, the small businesses that are starting new and are enthusiastic to be in front of their customers.
But the first challenge they face is to create an audience. Even if you use Paid Marketing to boost your likes on-page and followers, the next daunting challenge is engagement.
So, you need to frame a strategy that works for your customers and not you. Look what they need to learn. Do thorough keyword research so that you understand what your interested client is looking out for. Avoid creating random statistics, blogs, and PDFs on your company page. Rather take the opinion of your audience through polls. Engage them in online activities. Prompt them to take any action over your post.
By pursuing what your clients need and catering to them, you eventually get what you want- A prospect!
Here, LinkedIn is the game changer to use content marketing tools. However, as per your brand, you can also create campaigns for more eccentric platforms like TikTok, Snapchat, and Whatsapp where marketers are creating their viral and meme strategies to create brand visibility and awareness.
2. Details of Your Buyers' Persona
While creating content is quintessential for anybody in the content marketing agency. However, the prior most advised activity is to wireframe your buyers' persona. What's that?
As a B2B business, you will have a niche market to deliver your services. It might sound easy for you but it is more complex at a deep level.
By naming an industry that you cater to, you won a quarter of the battle. The next thing you need to underline is the people that are the stakeholders, decision-makers, and engaging audience.
Experts will tell you to gather information about your competitors and their audience's profiles at first. Now start to create a portfolio of the most engaging profiles on your competitors' pages. This portfolio shall include:
Profession
Interests
Age
Gender
Location
Company
And other information, if available
With detailed information about your prospect, you can target your content towards them. Facebook and LinkedIn are great to collect such information about your B2B clients. Digital marketers use tricks and tools to make that job easy for you. Do you think someone from the Jelloow network can help you? If it's a yes, click here.
3. Brand Voice & Its Tonality to Break Monotony
Running a B2B company and sounding like a robot online?
This is a common myth that as a business catering to other businesses, you can't have a personalized voice for your brand.
We highly differ. In fact, with voice marketing gaining more favors from search engines, brands are now incorporating virtual assistants into their marketing game. We all know how AI is evolving and compelling forward-thinking companies to make changes within their organization.
However, this might sound a lot for small businesses. To begin with, set a friendly tone. While writing, you have to think about having a conversation in a conference room full of other humans. Even though you are selling services or products to another business, the buyer is always going to be a human.
This brings us to the question- How should you set the voice and tone of your business?
Every platform is now enabling Alt-Text for images you post online. Always utilize this feature intelligently. But when it comes to videos, you have far more to explore. Write transcripts, descriptions, and captions to make it voice-friendly.
And make sure, don't create content for robots if you don't want your audience to ghost you.
4. Employee's Company Than Employer's Company
A customer-oriented company will surely go forward but your most important pillar- your employees are even more worth the effort.
Employees, especially on Instagram, Facebook, Snapchat, and LinkedIn will hype for the company whenever given the opportunity.
Run online contests to engage them. People who have excelled in LinkedIn marketing understand how crucial it is to make an employee-centric marketing strategy. It is the only platform where through their connections, you reach more people.
But, here's what you miss out on if you're not there on other platforms. Employees carve for appreciation and visibility. Facebook and Instagram allow them to show off their achievements in front of their Friends and Family. Even though you might argue that it isn't your target audience but your employees are your message bearers. And as much as hype they create for you, the better rewards your brand gets in terms of trust and loyalty.
Takeaway:
Aren't these focal points for B2B companies worth the shot? Jelloow is helping brands like yours to connect with digital marketing experts who are escalating growth for you. Connect with them today at Jelloow!