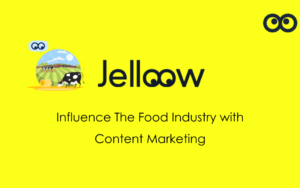 Dec 2022
Content Marketing in the Food Industry: A guide to why it's important to have a content marketing plan.
It's time to get your content marketing plan on point for the food industry.
The food industry is one of the most competitive industries out there, and it's growing every day. The companies that are winning are those who know how to get their name out there and make their brand stand out from the crowd.
That's why Jelloow is here: we want to help you do just that with our "How To" article. Write a blog post, create an email newsletter, hire influencers and developing an editorial calendar.
And today? We're going to talk about what content marketing is and why it matters for your business!
Influence the Food industry with your Content Marketing.
Content marketing is a process of creating and distributing high-quality content in order to attract, engage, and retain customers. Using different techniques that allows a company to really cater to the needs of their consumers. In the food industry there is a huge advantage that it is quite enticing to the senses to share your work.
Create Mouth-Watering Recipes That are Easy to Follow
Food is a topic that everyone can relate to. There are thousands of food blogs out there, so how do you stand out from the crowd?
Food should be at the heart of every business. Whether you're a restaurant owner or an online retailer, your customers will always have some kind of craving for delicious food. And if they don't have one right now, they will soon enough!
The best way to engage your audience around this subject is through content marketing. In this post, we'll show you our top tips on creating content around food that will help grow your brand and increase conversions.
Social Media Content Strategy For The Food Industry.
Food industry companies are in a unique position to benefit from content marketing. Food is one of the most basic, primal needs and desires of humanity. The food industry spans a wide range of products and services, so it's not surprising that food content is one of the most popular topics on social media.
Food companies have an opportunity to reach consumers during their most vulnerable moments — when they're hungry and looking for something to eat. But it's not enough for your brand to simply post about what you're selling; you need to post relevant, engaging content that encourages people to interact with your brand on social media.
Here are some tips for creating effective food-related content:
1) Create recipes based on your products or services
2) Share interesting facts about ingredients in your products or services
3) Create contests around specific ingredients or dishes using your products or services
Food Industry Content Marketing is Visual.
A huge advantage that I cannot stress enough is the importance of using your visual tools. This is why we believe that if you want to succeed in content marketing for your food business, then your focus should be on making sure that your content is visually appealing. This doesn't mean that all of your content needs to be graphics-heavy or filled with images; instead, think about how you can use images and videos where appropriate in order to showcase your products in their best light.