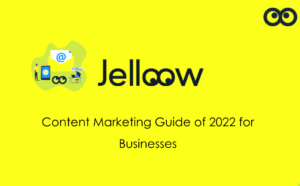 Jan 2022
2021 has been a year of a rollercoaster ride for the entire world. Pandemic due to Covid19 has shattered the world, resulting in a transformation in buyer's behavior and marketing strategies. Whether it's accepting work from home or a tremendous boom in online shopping/ streaming entertainment/education/ payments, things have changed for the better. If we talk about content, the new era of content has emerged where a customer's purchase decision involves research, analysis, online recommendations & reviews before buying a product or service. This is why we have the updated Content Marketing Guide for 2022!
If you are a budding digital marketer, content marketing is one of your most powerful weapons for a victorious marketing game. Let's discuss why and how.
Content marketing is a strategy-driven approach that intends to create valuable content for the target audience to develop their interest in your brand/service and generate relevant action.
Blogs, videos, infographics, e-books, case studies, etc., are all forms of content writing.
93% of B2B marketers use content marketing. This number is significant because a customer buys only from a trusted brand. Customer's trust and loyalty are built over time through communication, done effectively with impactful content.
Talking about content, Coke's 'Share a coke' campaign, McDonald's ever nailing topical content, or Burger King's witty content that induces the foodie in you are all examples of successful content marketing strategies.
Enough of the introduction!
Let's discuss all you need to have in your content marketing strategy for 2022.
1. Consumer-Centric Approach
The pandemic has transformed the marketing approach completely. Since forever, the focus of marketing has been on the consumer only. Due to the pandemic, there has been a shift from studying the consumer's needs to understanding the consumer situation, empathizing with them, and optimizing your strategy accordingly. And of course, only when they feel acknowledged and related will they be able to connect with your brand.
2. Be crisp and interactive
Your content strategy is on point if you can make a lasting impact in little words. For 2022, aim to create content that urges the customer to interact; the more they interact, the more they can relate.
3. Storytelling is the key
Have you seen the incredibly engaging story-building strategy of Airbnb, which created a space for the idea of living in somebody's home, in a customer's mind. Storytelling has always been engaging, but for social media, it has helped the customers in connecting with the brand.
4. Videos on the priority list
While making your content strategy for 2022, keep videos on the top as they are here to stay. Saying it through videos makes it easier to convey the message and also to engage the audience.
5. Personalize to memorize
Remember Starbucks writing the names of visitors on the cups? Or Zomato sending persuasive notifications with your name? What could be a better example of personalization? When a customer feels acknowledged and made feel special, they are here to stay. Don't forget to add personalization in your emails too, it helps the customer in remembering your brand.
6. Audio is the new normal
With the introduction of podcasts in recent years, there has been a major inclination of the audience towards audio content. What's the catch? You can tap your audience even when they are occupied. Traveling, working, or cooking, podcasts are your go-to content, anytime anywhere.
7. Artificial Intelligence
The social platforms from Facebook to Linkedin to Snapchat and Instagram are leveraging the use of Artificial Intelligence for recognizing faces in photos, offering job recommendations, identifying visuals, or tracking filters or features. In your strategy for 2022, do explore the opportunities and experiment with AI for your brand.
8. SEO-friendly content
While searching on Google, almost all of us scroll through the first page and trust brands that are featured on the first page only. To remain on the first page, you need to have the most versatile and adaptive content. For preparing your content in 2022, keep SEO on your tips, research the ongoing trends of consumers and optimize your content accordingly to keep your brand on top of the Google search.
9. Blogger Outreach
For a few years, influencer marketing has paced up like anything. Customers these days depend on recommendations from their favorite influencers/bloggers before buying a product or service. Keeping consumers' choices in mind, brands are reaching out to influencers as per the target audience, niche, and budget for marketing their products. In the coming year, your content strategy needs to have a plan for influencer marketing for reaching out to a wide audience through your content.
10. Augmented Reality/Virtual Reality
For setting a fantabulous virtual experience for users, brands are exploring innovative AR and VR technology. Facebook's 360 videos, Snapchat's AR filters, or playing games in a virtual world or a virtual friend's party have all been possible due to AR and VR. To stand apart from the crowd and shine bright in the marketing world, brands need to prepare the content and an immersive experience for the users.
Coming on to a conclusion, marketers need to have a mix of an emotional, logical, and creative approach to build a strong and result-oriented content marketing strategy. From including the basics to adopting new and innovative technology, marketers should make use of it all.
Last but not the least, take risks and keep evolving for the better.