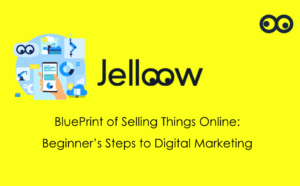 Febr 2022
Digital marketing services have saved many people from bankruptcy in the previous year by selling online. With the pandemic hitting the world and dropping the economy to one of the lowest, people struggled to find a daily living—even well-established businesses. You can be one of them who is finding new ways to reach out to your clients. Or you're a newbie who has a great product to sell but doesn't know how and where to market it?
Don't worry about these obstacles because here, we'll help you make your first sales in the first month of going online!
What are you selling and to whom?
Congrats on starting the new online business! This is a milestone for anyone. Now let's help you make it a success. But before we dig into how to do it, let's understand "what and whom and where" about this product.
What is the industry?
Is it a B2B or B2C product?
What are demographics and geography?
What is your target audience?
Who are the major competitors in your target location?
What's the profit and sales model?
How are you going to nurture the leads/sales?
We don't want the lists of questions to overwhelm you, and that is why here's how you should approach finding the best answers to these questions:
Mostly every business has at least one major competitor in the market, no matter what the products are.
Learn from them how they have approached their audience, built a loyal clientele, and mistakes they're making.
At times, you can avert loopholes by just learning from someone else's loss. You might feel this as cheating at first, but it's a smart move to make. Your unique product will only be able to pierce through the competition if you mimic some steps to sell online products from your competitors.
2. Hire Experts and Delegate Tasks
As a small business entrepreneur, you might think hiring an expert is an added expense and might risk the business. But you can't dwell on each challenge by yourself.
Calculate the cost of freelance or project-based experts and outsource the tasks like social media marketing services to a team of experts at a budget-friendly price. Jelloow is helping businesses like yours to stand their ground within the shortest period. Check out for yourself.
This allows you to spend more time thinking of ways to upscale your business rather than sustaining it.
3. Localize your services
The Internet indeed allows you to connect with a global audience. Every online business has the potential to cross seas. However, you must begin from home. In the initial months, find your client base as close to your home. Reason?
People who know you or relate to you will trust you better. With trust comes sales. With sales come reviews, and once the cycle of reviews and sales is set on, nothing can stop your business from growing.
Technically, location helps you define a niche audience and produce marketing strategies that target this audience even when you're selling your products online. Conversion rate is hence higher during such sales.
As online marketing consultants, we can stop emphasizing how crucial internal linking is. SEO juices need to flow flawlessly. If you're able to keep your audience engaged, 53% of them will end up making a purchase or book a demo with you.
A lot of factors like website speed or website design will determine the user experience but customer journey is equally important in that case.
Webinars are a new trend for a lot of businesses. The trend is quite successful for B2B companies that deal in technology and IT products.
When you gather an interesting set of audience to watch you, you already have gauged them for a good time. With your high-quality and resourceful content, you can easily and quickly build trust.
With sharable resources and by strategically presenting your business products in front of them, you gain word-of-mouth referrals and get backlinks in the form of social media mentions, shared documents, direct organic traffic, and so on.
Are you excited to see what happens if you use all these tricks to market your business? Let Jelloow help you further as well. Check out the top digital agency network and find out the team that is ready to work with you at your favorite price and provide you with nothing but the best results.
How to Make Your First Online Sale?
It's a new product and new company. So, here are some ways to sell your first product:
1. Build an Online Presence
For people to trust you, you need to build an online presence. Having a website, a unique logo, a brand story to remember, and a presence on search engine result pages (SERPs).
Our search marketing agencies are pro at helping young businesses to quickly show up on the top result pages of search engines by providing services that include backlinking, product listings, business listings, and more. And local SEO also boosts your online business as you're catering to the high intended customers.
Think you need to speak with an expert? Now is the time.
2. Select Your Social Media Platforms
If you're not ready to invest in a website or run campaigns to boost web traffic organically or inorganically, the next step is to identify where you wish to sell your products.
Some businesses find Instagram helpful, and others find Facebook Marketplace attractive. But these are not the only options. You can also build free marketplaces on Wix, Shopify, and other eCommerce websites.
Find the right place to display your product line and then strategize to maximize the output. For example, if you choose to sell your products on Instagram, then build content pieces, creative assets, and followership campaigns around this platform.
3. Contact your connections
Ask your folks to talk about your business with their connections. A simple Facebook share or Whatsapp status or Snapchat story can help you expand your followership.
Write them a nice personalized message with the link to your online shop and let them know how assuring it will be to have their support. Most likely, you will get a response back.
Saying out of the experience, your first sale should come from someone you know. And that's enough to reach more people.
4. Find Influencers to Spread the Word
As a new business, connect with influencers in your industry to create trust and visibility within your target audience.
The word-of-mouth recommendation will send quite some followers to your social media pages and website.
5. Launch Program for Your Brand
Reward your audience to receive their attention. The human mind follows where there are "Sales and Freebies!"
It's nothing to hide that we all love to binge on something that comes as a deal. Even though you have to pay some extra amount to avail the deal. And why not, you are looking for PR so, why not treat launch programs like "Lifetime Sale", "Welcome Program" or "First Purchase Discount" are some of the ways to lure your customers in.
Go creative to attract people's eyes and snatch their attention to get more follows!
There's no harm in taking the shortcut to your first sale. If you've tried all of the above or you're ready to expand, paid marketing campaigns are your best friend. Depending on your audience and where they are present, choose the platform and budget to run the online ads.
Google Search Ads are a great way to bring highly interested and intended buyers to your website. However, if you're trying to look for an audience on Social Media platforms, then Facebook, Instagram, LinkedIn, Twitter, Snapchat or TikTok marketing is a good start.
Bonus: Take Recommendations and Reviews
This particular piece of advice is for someone who has made their first sale or even more. Build your relationship with your clients such that they are willing to drop reviews on Google, Website, or Social Media.
Marketing these reviews on your website, newsletters, or social media will generate trust in your audience and influence their decision-making.