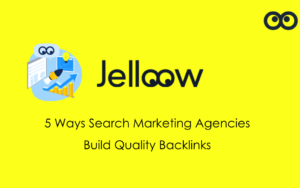 Dec-2021
Search Engine Optimization is like a chain reaction that can serve you not just today but many years if you get it right. Search marketing agencies are trying to keep up with the algorithms and update their strategies accordingly because they can potentially harm or benefit your business. This is why we suggest that companies who are certain of hiring a digital marketing team should let the experts handle SEO for their company on a long-term basis.
Talking about handling SEO, one of the most interesting works the experts do is creating worthy Backlinks. It is a risky business, we must warn you. Your domain's authority is determined by the quality of the backlinks created.
But, let's hold on…
If you understand the term, "Inbound Marketing" then backlinks are a treasure.
When one higher authority website connects to your website through web links, it is called "inbound interlinking" or "inbound links" or "incoming links".
This provides your website with high-quality borrowed web traffic which improves your authority on the search engine as the crawlers find your website and its content more of value to their users.
And your likeability factor on search engines becomes higher. This then determines your ranking for the targeted keywords and even gives you preferences when you run PPC ads.
In short, a lot matters on where do you find connections for your website.
So, how do you build quality backlinks then?
Some of the SEO platforms for agencies working to improve their efforts:
The concept of guest blogging is more like community service where everyone gets benefits and not just the host or the contributor or the audience. The writer must build a connection with the host to continue writing for them. With each attention-seeking post, you win a worthy link back to your site.
Mitch Monsen says, " Your relationship with the blogs and bloggers doesn't end once you've published a guest post; you've just developed some exceptional business contacts!"
To find how to find these sites, let's call your business's top keyword "TK" and next you want to do is:
Go to Google Search
Type the following and similar combinations to find listings for your potential business:

TK + "guest blog"
TK + inurl:guest-post
TK + become a contributor
TK + "submit an article"
Infographics are quite an attention stealer. These visually pleasing yet informational content pillars have a few great advantages:
Ticks the box for the audience having the shorter attention span
Looks great and people can share them an endless number of times
Talks about the important things precisely
Present unique Stats, How-Tos, Whys, etc
Most importantly, builds a link to create exceptional web traffic from intended buyers
Infographics are quite an attention stealer. These visually pleasing yet informational content pillars bring a lot of value to you. How?
Even if you invest $50 to create well-research infographics by creative marketing consultants, it will end up giving you clients worth 10x your product value.
And with their shareable nature, these particular graphics will live to provide you value for a long. There has to be a reason why the Internet sees a 1% increase in the production of Infographics every day.
3. Trace your Competitors' Footsteps
In the digital marketing world, there's nothing called cheating if you do it intelligently.
Being original and experimental is of course a great deal but when it comes to your competitors, it is only beneficial to keep an eye on them.
Find yourself experts at Jelloow who ace at the spying business and can bring you to report on where and when your competitors are posting their content. With this, you can know and then target the source of getting good quality leads linked back to you. (Hint: Via Content Marketing)
As online marketing consultants, we can stop emphasizing how crucial internal linking is. SEO juices need to flow flawlessly. If you're able to keep your audience engaged, 53% of them will end up making a purchase or book a demo with you.
A lot of factors like website speed or website design will determine the user experience but customer journey is equally important in that case.
5. Participate in Subject Matter Expertise Webinars
Webinars are a new trend for a lot of businesses. The trend is quite successful for B2B companies that deal in technology and IT products.
When you gather an interesting set of audience to watch you, you already have gauged them for a good time. With your high-quality and resourceful content, you can easily and quickly build trust.
With sharable resources and by strategically presenting your business products in front of them, you gain word-of-mouth referrals and get backlinks in the form of social media mentions, shared documents, direct organic traffic, and so on.
Are you excited to see what happens if you use all these tricks to market your business? Let Jelloow help you further as well. Check out the top digital agency network and find out the team that is ready to work with you at your favorite price and provide you with nothing but the best results.
How to Find the Best Search Marketing Agencies for Your Niche
Some agencies will offer you a lot of services, but it is important to know what you are looking for. If you are looking for the best SEO services, they will recommend that your website rank highly in search engines.
If your goal is to have more traffic, they will help with PPC campaigns and Google Adwords.
The best way to find out what is the best agency for you is to ask them about their experience with your industry or niche.
There are also online resources that can be used as a starting point like Jelloow.
Why You Need a Search Marketing Agency?
In today's digital marketing world, it is important to have a strong online presence and search engine optimization (SEO) to get your business noticed.
An outsourced search marketing agency can help you in the following ways:
-An SEO agency can help with your content strategy and quality content creation.
-A social media agency can help you in optimizing your social media channels and generate traffic through social channels.
-A graphic design company can help with designing logos, newsletters, digital banners, email templates etc.
-A search engine marketing (SEM) company can provide you with keyword research for better ranking in SERPS and create advertisements in Google AdWords and Bing Ads etc.
What are the Benefits of Hiring an agency to optimize your search traffic?
One of the most important aspects of digital marketing is SEO and optimizing your site for search engine rankings. It's a complicated process but there are digital agencies that specialize in this area. Hiring an SEO specialist can bring a lot of benefits to your business so it's worth looking into.
The Key Areas to Look for in an SEM Agency for Companies
An SEM agency needs a strong portfolio of a variety of skills and capabilities. They should have the ability to collect, analyze and report on data, as well as have a solid understanding of how to use it for marketing purposes.
Here are 4 things that you should be looking for in your next digital marketing company:
1) Great presenters – They need to be able to translate your ideas into actionable campaigns with high conversion rates.
2) Strong online presence – The company needs to have an online presence that is engaging and inspiring.
3) Quick turnaround time – Speed is important when it comes to providing results for clients, so they want one who can deliver quickly and with ease.
4) Optimized websites – A digital marketing company will work on SEO.
What Sort of Services Do Marketing Agencies Offer?
Marketing agencies have always offered SEO services to their clients. These days, they are also offering social media advertising, web design, and development, content marketing, email marketing, etc.
A marketing agency is a company or organization that offers an integrated range of marketing services to clients. The services are usually customized based on the client's needs and are often offered at a fixed cost.
Marketing agencies offer a wide range of services for their clients which include digital marketing, SEO services, social media management etc.
Takeaway Thought:
While talking about the local community, Jelloow provides one such service to their clients. Register yourself on our platform for free and create your profile to earn more clients. How?
We host several businesses every week who are looking for marketing services. Based on their budgets and requirement, they go through the network of marketing agencies available on our platform. Once they select one, the agency is connected with the business for more online or offline conversation regarding the project. This is a great opportunity to onboard a new client. Don't you agree?
If you're interested, join Jelloow today.