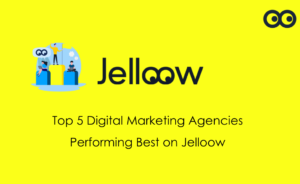 April 2022
By making digital marketing adaptable and relatable with visual graphics, designing and animation have elevated the branding efforts. Companies are on spree to hire graphic designers for their social media platforms and other product marketing activities now. The understanding of reaching out to the audience via attractive videos, still images, graphical material, and more is vivid. That's why Jelloow hosts a network of creative marketing agencies who help brands to visualize their next gem with them!
Spreading their wings in Deksia. They are the imaginators and illustrators of a company's dream. Having all the defined skills for producing great quality content, these experts are ready to shoot for the stars at Jelloow. Allow them to create branded content and animation videos for your company and see the magic it brings to your revenues.
Ranging their services and pricing model to fit the needs of an enterprise to a small business or an NGO, Alter New Media is a design geniuses for everyone. Their eccentric approach towards design and animation helps brands to view a new perspective of marketing. Check their profile to see how simply and beautifully you can improve your branding efforts.
Are you someone in any of these industries- Education, Food & Beverages, Healthcare, Manufacturing, Non-profit, Music, Law, Finances and Support, Retail, Health & Wellness, Travel, Mobile Apps, and SaaS Software? Because We Are Doop are the experts in their field who have accelerated business growth using their multi-disciplinary skills that includes designing as first to impact the revenues and sales. Don't believe us? Check out their portfolio for more!
Creative designing is an art mixed with science and human psychology to compel behaviors as per your choice. For this impact, one must have the right agency to support your idea. By letting BeaPeach and Publication work on your marketing strategy with their perfection-loving experts, you are allowing your business a chance to grow. Choose them if you're looking for branding designs like logo design, business cards, brochures, banners, posters, and other marketing materials for digital and print media.
Working with start-ups and mid-size businesses stuck in the middle of nowhere needs someone with experience and knowledge to strategize, structure, and lead from the forefront. Each & Eyverone has a platform for companies to perform better. How? With a personalized approach, your company will first receive a full marketing analysis underlining the pain points and potential growth angles. Based on your budget and goal, an ROI-driven strategy is what you'll get. Once that's done, next is the execution which is next to perfect. Check out their work before you hire.
Here are our two cents:
Today's marketing has evolved into a competition where you have 3 seconds to make an impact. With the ever-growing craze of 3-second video format content, even the content marketing experts are finding ways to say less, show more. Use design and animation services so your audience knows you're in the business. Hire our experts to see the difference from the start!