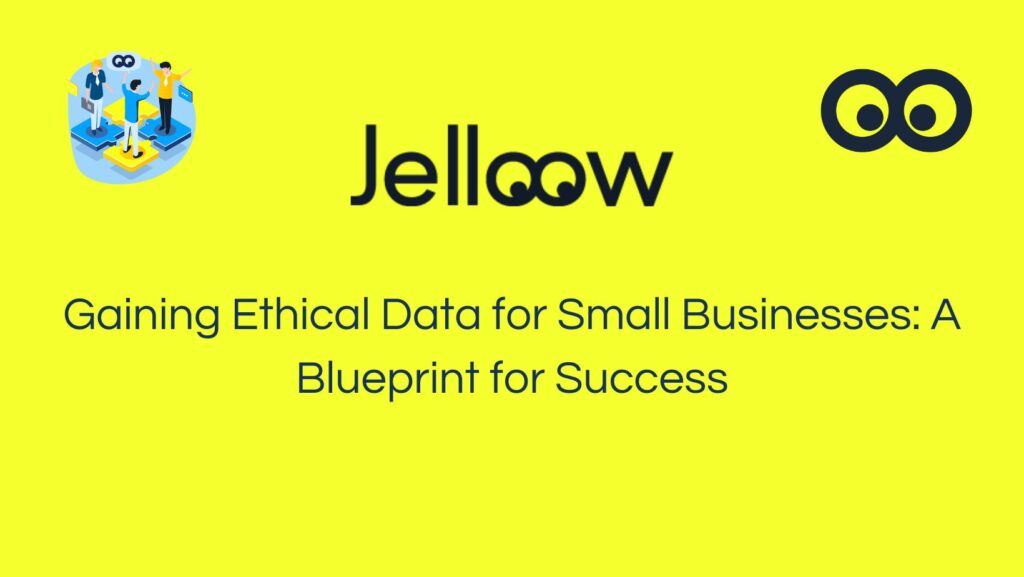 Gaining Ethical Data for Small Businesses: A Blueprint for Success
November 2023
Embracing Ethical Data for Small Business Prosperity
The acquisition of ethical data for small businesses has emerged as a critical determinant of success. With the proliferation of digital technologies and the escalating importance of data, gaining ethical data for small businesses has become an essential cornerstone of business operations. At Jelloow we are also well aware of that that is why in this blog post, we will delve into the paramount significance of gaining ethical data for small businesses and provide a comprehensive blueprint for how your small business can effectively achieve it even with the help of one of our partners.
The Significance of gaining ethical data for small businesses: A Pillar of Small Business Trust and Growth
Data is unequivocally regarded as the new gold in the realm of business. It can furnish valuable insights into customer behavior, market trends, and operational efficiency. However, it is of paramount importance that the data amassed and harnessed by small businesses is not only comprehensive but is also acquired and managed in an ethical and responsible manner. Ethical data collection and usage are characterized by their inherent respect for privacy, the acquisition of informed consent, and the rigorous enforcement of data security measures. Let's examine why the ethical aspect matters:
Customer Trust: Anchoring Small Business Success through gaining ethical data for small businesses:

 
The bedrock of small business success hinges on the establishment of trust with customers. Ethical data practices play a pivotal role in this trust equation. When customers are assured that their data is handled with meticulous care and unwavering integrity, they are more likely to engage with the business, recognizing the commitment to gaining ethical data for small businesses.
2. Legal Compliance: Upholding Ethical Data Practices for Small Business Security and Legitimacy: 
Numerous countries worldwide have instituted stringent data protection regulations, such as the GDPR in Europe and the CCPA in California. It is imperative for small businesses to meticulously adhere to these laws, lest they incur substantial fines and legal repercussions. Upholding ethical data practices is not only a legal requirement but also a fundamental aspect of ensuring gaining ethical data for small businesses.
3. Reputation Management: Nurturing Small Business Trust through gaining ethical data for small businesses: 
Ethical data practices can elevate a small business's reputation to new heights. When customers and business partners perceive an enterprise as responsible stewards of data, it invariably leads to positive word-of-mouth and an augmented level of credibility. Nurturing trust through gaining ethical data for small businesses becomes a hallmark of the business's reputation.
4. Competitive Advantage: Harnessing Ethical Data for Small Business Empowerment: 
By acquiring and leveraging gaining ethical data for small businesses, small businesses can maintain a competitive edge. They are empowered to make more informed decisions, gain a deeper understanding of their market dynamics, and adeptly adapt to changing circumstances. Harnessing ethical data is not just a strategic advantage, it is the key to small business empowerment and success.
Obtaining Ethical Data for Small Businesses: A Systematic Approach
Now that we have underscored the pivotal importance of gaining ethical data for small businesses, let's traverse the blueprint that will guide small businesses in effectively obtaining ethical data:
1. Define Your Data Needs: Aligning Ethical Data Acquisition with Small Business Goals
At the outset, it is paramount to meticulously define the data that holds the utmost relevance for your business. Pose questions that you intend to answer and problems that you seek to resolve. This process serves as the compass guiding your data collection endeavors and ensures that you avoid superfluous or excessive data gathering.
2. Obtain Informed Consent: Empowering Small Business Ethical Data Collection through Transparency
In the event that data is collected directly from customers, securing their informed consent is an imperative step in gaining ethical data for small businesses. Transparency is key. Small businesses must be forthright about the data collected, the rationale behind the collection, and the intended usage. Customers should be provided with the option to either opt in or opt out of data collection.
3. Data Security: Fortifying Small Business Integrity via Ethical Data Protection
    Investment in robust data security measures is non-negotiable for gaining ethical data for small businesses. Such measures encompass encryption, access controls, and periodic security audits. Small businesses often underestimate the significance of data security. Nonetheless, a breach has the potential to wreak havoc on both reputation and financial stability.
4. Ethical Data Sources: Selecting Reputable Channels for Small Business Ethical Data Acquisition
    Consider sourcing data from ethical and reputable providers in the process of gaining ethical data for small businesses. Numerous companies specialize in aggregating and selling data, with some being renowned for their unwavering commitment to ethical data standards. It is incumbent upon small businesses to scrutinize and verify the sources of the data they intend to utilize and ensure that these sources are fully compliant with pertinent data protection regulations.
5. Data Analytics: Leveraging Ethical Data for Small Business Decision-making
    Upon successful data collection, channel resources into the acquisition of data analytics tools and the cultivation of analytical expertise. Data analysis is where the real value lies in gaining ethical data for small businesses. It facilitates the extraction of invaluable insights, thereby empowering small businesses to make decisions founded on data-driven principles and fine-tune operational and marketing strategies.
6. Data Retention and Deletion: Ethical Management of Data Lifecycle in Small Businesses
    It is paramount to delineate data retention policies and rigorously adhere to them for the ethical management of data in gaining ethical data for small businesses. Prolonged retention of data beyond its requisite duration not only engenders security vulnerabilities but may also transgress data protection laws. Therefore, small businesses should periodically review and expeditiously delete data that no longer serves a purpose.
7. Data Privacy Training: Empowering Small Business Teams with Ethical Data Handling Know-how
    It is imperative to ensure that employees are well-versed in matters pertaining to data privacy and ethical data practices as part of gaining ethical data for small businesses. Provision of comprehensive training is essential in equipping employees with the requisite understanding of data ethics and guidelines for the proper handling of data.
8. Monitoring and Compliance: Ensuring Ethical Data Adherence in Small Business Practices
    Routinely monitor your data practices to affirm their alignment with prevailing data protection regulations. In some instances, it may necessitate the appointment of a Data Protection Officer, while in others, it could require seeking legal counsel to navigate the complex landscape of data protection compliance.
9. Transparency: Cultivating Ethical Data Culture for Small Business Trust
    Foster an environment of openness and transparency with customers and business partners as an integral part of gaining ethical data for small businesses. Unambiguously communicate your data privacy policies on your website and incorporate them into your terms and conditions.
10. Continuous Improvement: Evolving Ethical Data Practices for Small Business Sustained Success
    Data practices should be viewed as an enduring process of refinement for gaining ethical data for small businesses. Small businesses should remain abreast of the latest developments in data protection and privacy, and be poised to adapt their processes accordingly for the sake of gaining ethical data.
Conclusion: Ethical Data as a Stepping Stone for Small Business Ascension
Gaining ethical data for small businesses is not merely a choice, it is an unequivocal necessity for sustainable growth and success in the contemporary business landscape. The ethical acquisition and utilization of data serve as a cornerstone of trust, reputation, and competitive advantage. By diligently adhering to the comprehensive blueprint outlined in this blog post, small businesses like yours can together with Jelloow and our partners seamlessly navigate the labyrinth of data collection, management, and utilization, setting the stage for triumph in the age of data-driven business. Always bear in mind that gaining ethical data for small businesses is not just a requisite, it is a strategic imperative that invariably propels small businesses towards the zenith of success. So start today by going to jelloow.com.