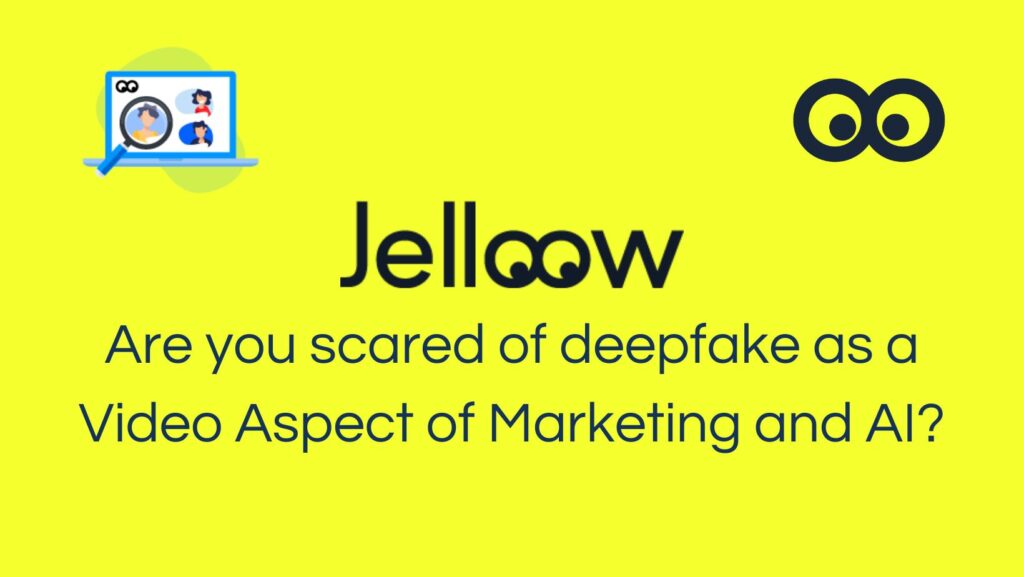 Are you scared of deepfake as a Video Aspect of Marketing and AI?
November 2023
In the aftermath of Halloween, we would like to raise a new and for many people frightening topic deepfake as a video aspect of marketing and AI. This has become an indispensable tool for marketers. One of the most intriguing applications of AI in marketing is the use of deepfake technology. Deepfake as a video aspect of marketing and AI is revolutionizing the way brands create, personalize, and disseminate their content. This cutting-edge technology offers a wide range of opportunities and challenges for businesses looking to enhance their marketing strategies. In this blog post, we'll explore the world of deepfake technology, its implications for marketing, and how brands can leverage it to their advantage by first analyzing what deepfakes are followed by the use of them in marketing after that we will dive deeper into the Challenges and Ethical Concerns and we end with Leveraging Deepfakes Responsibly and a conclusion were we also guide you towards te right partner with Jelloow.
What are Deepfakes as a video aspect of marketing and AI?
Deepfakes are AI-generated content, primarily video, audio, or images, that convincingly mimic the appearance and/or voice of a real person. These manipulations are created using sophisticated algorithms and deep learning techniques. The term "deepfake" is a portmanteau of "deep learning" and "fake," highlighting the technology's reliance on deep neural networks.
The Use of Deepfake Technology in Marketing
The application of deepfake as a video aspect of marketing and AI is multi-faceted and holds immense potential for businesses that is also something the partners of Jelloow know. Here are some key areas where deepfake technologies are making their mark:
1. Personalized Marketing:
Deepfake technology enables businesses to create highly personalized video content for their customers. By using AI to superimpose a customer's face onto a spokesperson or a product user in a video, companies can create engaging and tailored advertisements that resonate with their target audience. This level of personalization can significantly increase engagement and conversion rates.
For example, an e-commerce website could use deepfake as a video aspect of marketing and AI to show customers how they would look wearing the latest fashion trends, promoting a more immersive and personalized shopping experience. 
2. Celebrities and Brand Endorsements with deepfake as a video aspect of marketing and AI:
Brands often rely on celebrity endorsements to promote their products. deepfake technology allows companies to create endorsements with iconic figures, even posthumously. By using existing footage and audio recordings, AI can generate new content featuring celebrities endorsing products and services. This approach can save costs associated with hiring celebrities and offer more control over the endorsement content.
However, it's important to note that the use of deepfake technology in celebrity endorsements can be ethically complex and must be approached with transparency and integrity to avoid potential backlash. Maintaining the trust of the audience is paramount.
3. Multilingual Content:
deepfake as a video aspect of marketing and AI can also help businesses overcome language barriers and reach a global audience. AI-driven voice synthesis and video generation can seamlessly dub or translate marketing content into multiple languages, making it accessible to a broader spectrum of consumers. This approach can be particularly beneficial for companies aiming to expand their reach internationally.
4. Cost-Efficiency:
Creating high-quality video content can be expensive and time-consuming. deepfake technology offers a more cost-effective solution by reducing the need for hiring actors, camera crews, and elaborate sets. Small and medium-sized businesses can compete with larger competitors in the marketing sphere by harnessing the power of AI-generated content.
Challenges and Ethical Concerns
While deepfakes as a video aspect of marketing and AI offer a plethora of opportunities, they also present ethical challenges that need to be addressed:
1. Misinformation:
The most pressing concern regarding deepfake technology is the potential for misinformation and the spread of fake news. As the technology becomes more advanced, it becomes increasingly difficult to distinguish between genuine content and deepfake manipulations. This can lead to trust issues and credibility problems for brands using deepfake technology. Brands need to be vigilant in ensuring the accuracy of their content and consider the potential impact on the public's perception of their authenticity.
2. Privacy:
Creating deepfake as a video aspect of marketing and AI often requires vast amounts of personal data, such as images and videos of individuals. Protecting this data and obtaining proper consent for its use is crucial to safeguarding individuals' privacy and complying with data protection regulations. Respecting individuals' privacy rights is essential for maintaining trust and ethical standards.
3. Trust and Authenticity:
Marketers need to be mindful of their audience's trust and the authenticity of their brand. Overuse or misuse of deepfake as a video aspect of marketing and AI can erode trust and damage a brand's reputation. Striking the right balance between innovation and authenticity is essential. Maintaining brand integrity should be a top priority.
Leveraging Deepfakes Responsibly
To harness the potential of deepfake as a video aspect of marketing and AI while addressing ethical concerns, businesses should follow these best practices:
1. Transparency:
Marketers should always be transparent about the use of deepfake technology in their content. Clearly labeling deepfake-generated videos as such helps maintain trust with the audience. Transparency is key to building and preserving consumer trust.
2. Consent in deepfake as a video aspect of marketing and AI:
Obtaining proper consent from individuals whose images or voices are used in deepfake content is vital. Respect for privacy and data protection regulations is non-negotiable. Consent should be informed, explicit, and recorded.
3. Ethical Guidelines:
Brands should establish and adhere to ethical guidelines for the use of deepfake as a video aspect of marketing and AI. These guidelines should encompass responsible content creation and distribution. By setting clear ethical standards, brands can demonstrate their commitment to responsible use.
4. Verification and Authenticity for deepfake as a video aspect of marketing and AI:
Develop methods to verify the authenticity of content, especially when it comes to customer testimonials or endorsements. Ensure that the deepfake technology and content aligns with the brand's values and messaging. Third-party verification can help ensure the integrity of the content.
5. Human Oversight:
Combine the power of AI with human oversight. AI technology can be used to generate content, but a human touch is necessary to ensure that the content aligns with the brand's vision and values. Human oversight can catch potential issues and ensure content aligns with the brand's messaging.
As conclusion: deepfake as a video aspect of marketing and AI is a powerful tool that holds the potential to revolutionize the industry. Marketers can use deepfake technology to create highly personalized content, leverage celebrity endorsements, overcome language barriers, and save costs. However, it comes with ethical challenges that need to be addressed to maintain trust and credibility with the audience.
As the technology continues to evolve, it is crucial for marketers to stay responsible, transparent, and respectful of privacy and consent. By embracing deepfake as a video aspect of marketing and AI while adhering to ethical guidelines, businesses can tap into the endless possibilities this AI-driven technology offers and stay ahead in the ever-changing world of marketing. Balancing innovation and ethics is key to leveraging the full potential of this technology while maintaining trust and authenticity in the marketing landscape. If this still seems scary for you it would be a good idea to let Jelloow help you in finding the right partner so that together we can get rid of that fear and implement the deepfake technology for your business.