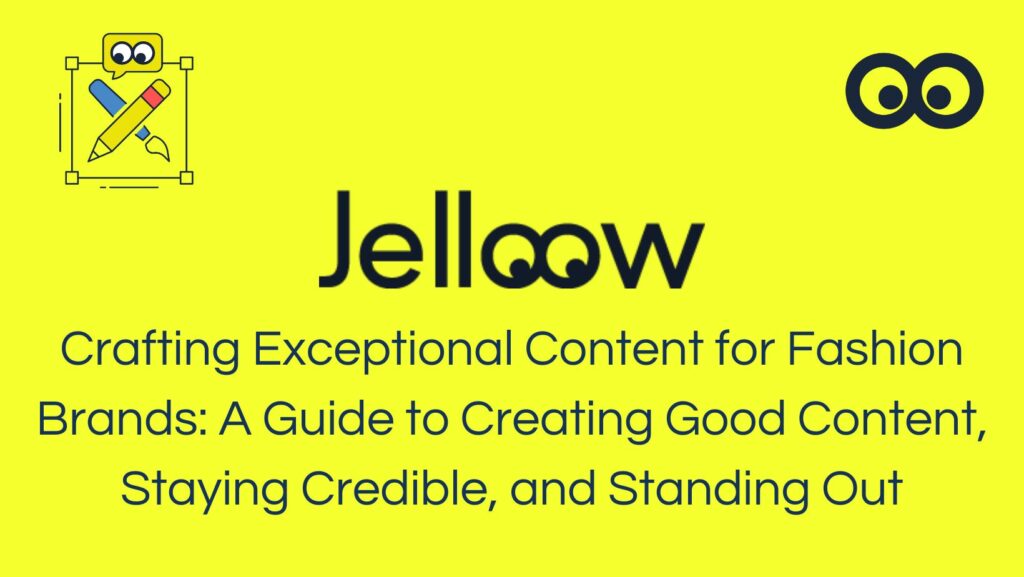 Crafting Exceptional Content for Fashion Brands: A Guide to Creating Good Content, Staying Credible, and Standing Out
November 2023
In the fast-paced world of fashion, the art of crafting compelling content for fashion brands holds a paramount role. In a landscape inundated with a multitude of fashion brands vying for attention, the ability to distinguish oneself is an art form unto itself. Building and preserving brand identity, and maintaining authenticity in the ever-evolving world of fashion is not merely a choice. It's a necessity. In this blog post, we delve deep into 10 key components that constitute remarkable content for fashion brands, ensuring that your brand resonates and thrives in this vibrant and highly competitive industry.
1. Define Your Brand Identity:
Before diving into content creation, it's imperative to have a clear understanding of your brand's identity. What does your brand stand for? Who is your target audience? What are your brand's core values and unique selling points? Define these elements to guide your good content for fashion brands effectively.
2. High-Quality Visuals to stand out as a fashion brand:
In the fashion industry, images and videos speak volumes. High-quality visuals are the cornerstone of good content for fashion brands. Invest in professional photography and videography to showcase your products. Ensure that your visuals align with your brand's aesthetic and ethos.
3. Good content for fashion brands by Storytelling:
Effective storytelling is a powerful tool in fashion content creation. Share the journey and inspiration behind your collections. Create narratives that resonate with your audience, making them feel emotionally connected to your brand. Credible content for fashion brands often includes behind-the-scenes glimpses, designer interviews, and customer testimonials to build trust and authenticity.
4. Consistency in Branding:
Staying on brand as a fashion brand is essential. Your brand's voice, tone, and style should remain consistent across all platforms. This consistency ensures that your audience can easily recognize and relate to your content. Whether it's your website, social media, or marketing campaigns, maintaining a uniform brand image is key.
5. Keyword Research:
To reach your target audience effectively, it's crucial to incorporate relevant keywords in your content. For instance like we did here, using "good content for fashion brands" and "credible content for fashion brands" strategically in your blog posts, product descriptions, and metadata can help improve your search engine rankings and drive organic traffic to your website.
6. Engage with Your Audience:
Social media platforms provide an excellent opportunity to interact with your audience. Respond to comments, ask for opinions, and encourage user-generated content. By fostering a two-way conversation, you build a sense of community around your brand and establish credibility.
7. Be Authentic and Stay On-Brand to deliver credible content for fashion brands:
Authenticity is the secret ingredient in creating credible content for fashion brands that resonates with your audience. Showcase the real, unfiltered aspects of your brand while maintaining consistency to stay on brand as a fashion brand. Customers appreciate honesty, and genuine stories make your brand more relatable.
8. Create Value with On-Brand Content as a fashion brand:
Your content should offer value to your audience. Whether it's style tips, fashion insights, or trend forecasts, make sure your content is informative and helpful. When you consistently provide value through on-brand content, your audience is more likely to engage and stay loyal.
9. Collaborate and Partner:
Collaborations with influencers, other fashion brands, or industry experts can add credibility to your good content for fashion brands. Partnering with trusted individuals and brands can help you reach a broader audience and boost your reputation.
10. Monitor and Adapt to be on brand as a fashion brand:
The fashion industry is ever-evolving. To remain on brand as a fashion brand and relevant, you must regularly evaluate your content strategy and adapt to new trends and consumer preferences.
In conclusion, creating good content for fashion brands isn't just about showcasing your products! It is about telling a compelling story and connecting with your audience on a deeper level. By defining your brand identity, maintaining consistency, and staying authentic, you can craft content that sets you apart from the competition and establishes your fashion brand as a credible and trustworthy authority in the industry. So, take the time to think what you really want, fill out the survey at jelloow.com and together we can find you the right partner to create engaging, valuable, and on-brand content, and watch your fashion brand flourish in today's competitive market.