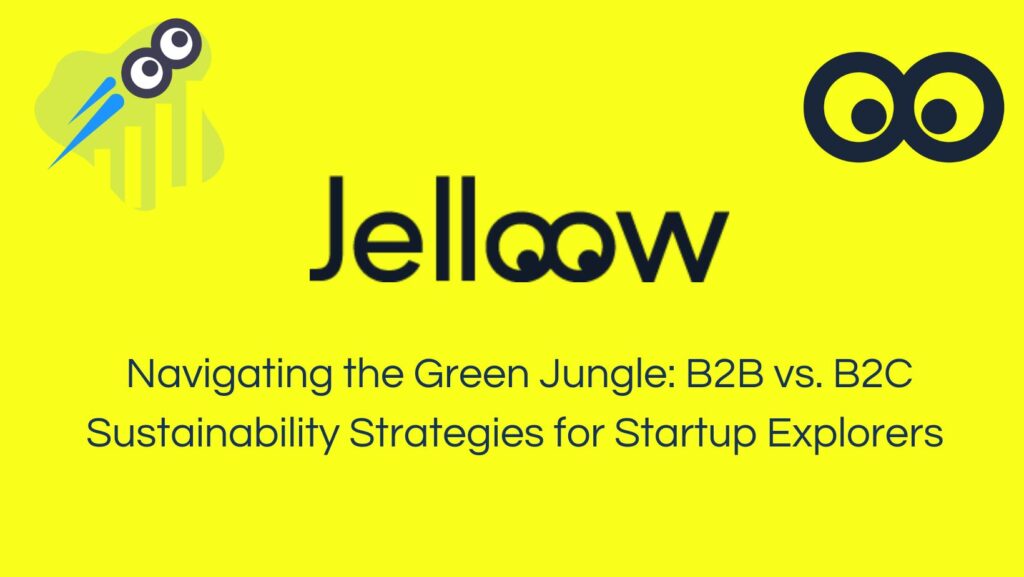 Navigating the Green Jungle: B2B vs. B2C Sustainability Strategies for Startup Explorers
October 2023
Launching a startup these days is like embarking on an adventure through the Green Jungle. Sustainability isn't just a buzzword, it is a compass guiding your way. But how do you choose the right path for your B2B or B2C strategies for sustainability startups and sustainable growth methods for your startup? Let's find out and see where Jelloow can be the partner you need!
Your B2B strategies for making a sustainable startup impact
Sustainable B2B startups, welcome to the world of collaborative conservation! In this jungle, you have the chance to form alliances with other businesses. Think of it as teaming up with eco-warriors to save the planet. Here's how to conquer this terrain:
Find partners in Crime: Forge alliances with fellow eco-champions to create a mega impact on sustainability. For instance, if you're a sustainable B2B startup searching your strategie in the renewable energy sector, collaborating with manufacturers of eco-friendly solar panels can amplify your impact on reducing carbon emissions.
Supply Chain Expedition: Trek through your supply chain to cut waste, reduce carbon footprints, and choose eco-friendly materials. For example If you're in the fashion industry, explore sustainable fabric sources, and reduce the environmental impact of your products.
Certification Quest: Earn badges and certifications that prove you are a the example for B2B strategies for sustainability startups. some of these sustainable  B2B strategy certfiications for sustainability startups are Certified Sustainability Professional (CSP), Certified Sustainability Practitioner (CSP), Certified Energy Manager (CEM), and Certified Carbon Reduction Manager (CRM). And on top of it. once you earned these certifications, make a PR release to showcase the potential of your sustainable growth methods for your startup.
B2C sustainable stratgies for making a sustainble startup impact: Eco-Expeditions and Engaging Explorers 
For sustainable B2C startups searching their strategie, it's all about becoming the tour guide of the Green Jungle. Your fellow explorers, aka consumers, are curious about the environment. So, show them the wonders of sustainability with these strategies:
Transparency Trail: Be the transparent guide who shares every detail of your eco-adventure, from product origins to the production process. For example, Patagonia, a sustainable B2C outdoor clothing brand, provides extensive information about its supply chain and material sourcing, building trust among eco-conscious customers. Consider creating informative blog posts, videos, or social media campaigns to highlight the positive environmental impact of your offerings. This also highlights your sustainable B2C strategy.
Education Escapade: Educate your fellow explorers about the fantastic eco-benefits of your products and services. This shows more your sustainable growth methods for your startup
Green Marketing Trek: Use eco-friendly packaging and labels to attract your adventurous customers. Think about how The Body Shop employs recycled packaging and prominently features cruelty-free labeling to appeal to environmentally conscious customers that want to follow your sustainable  B2C strategy.
Feedback Safari: Keep the feedback loop alive; let your explorers guide you toward greener pastures. Engaging with your customers for feedback can lead to product improvements that align better with sustainable growth methods for startups.
Common Strategies for B2B or B2C sustainability startups
Impact Measurement: Equip yourselves with sustainability trackers and measure your impact, then shout it from the treetops. Whether B2B or B2C strategies for sustainability startups, tools like life cycle assessments and carbon footprint calculators can help you quantify and communicate your sustainability achievements.
Evergreen Improvement: Remember, the jungle is ever-changing. Keep discovering new eco-trails and ways to reduce your carbon footprint. Continuous improvement in sustainable growth methods for startups is vital for long-term growth.
Innovation Quest: Explore the lush forests of innovation to find new ways to make your startup eco-friendlier. Seek inspiration from big companies like Tesla, which continually push the boundaries of eco-friendly technology in the B2B and B2C strategies for sustainability startups.
How can Jelloow find your B2B or B2C strategies so you can become that sustainable startup you dreamt off.
In the wild world of startups, sustainability is not a trend anymore, it is your trusty survival guide. Choosing the right path for your B2B or B2C sustainable startup adventure means catering to your audience's eco-preferences. This is not always easy, so grab your binoculars and reach out to Jelloow to help you find the perfect partner or agency to boost your unique sustainable growth methods for your sustainable startup.
In this way it is easy to start this exciting journey that sets your startup apart and makes the planet a greener, happier place. Jelloow can provide expert guidance, connect you with like-minded partners, and support your sustainability initiatives, ensuring your startup thrives in the ever-evolving Green Jungle. Just fill in the survey-link, and find that partner and stand out, so you tell your sustainable story that resonate with your audience.