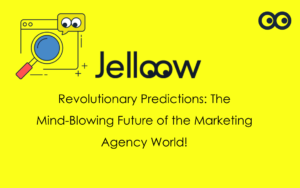 Aug 2023
Introduction: The Future of Marketing Agencies
In the rapidly evolving world of marketing, it's crucial to stay ahead of the curve. As we look two decades ahead, we must consider the potential opportunities and pitfalls that await us. This task might seem daunting, but as Alan Kay, a renowned computer scientist, once said, "The best way to predict the future is to invent it." With this in mind, let's explore the future of marketing agencies.
The Current Landscape:
Today, the marketing agency ecosystem is vast and diverse, offering a plethora of services ranging from design and development to social media management and content creation. Despite significant growth in recent years, the market for marketing agencies remains relatively modest. In 2020, there were roughly 400,000+ firms worldwide, representing a modest increase of just over 3% compared to 2018.
The Opportunities:
Integration of AI: Artificial Intelligence (AI) is set to revolutionize the marketing industry. By automating routine tasks, enhancing customer experiences, and enabling hyper-personalized marketing campaigns, AI offers marketing agencies a competitive edge.
Emerging Technologies: The continuous advancement of technology brings forth new platforms and channels for marketing agencies to engage audiences innovatively. Agencies that stay ahead of the curve will be able to captivate consumers and deliver cutting-edge campaigns.
The Pitfalls:
Privacy Concerns: With the increasing value of data, privacy concerns are likely to intensify. Marketing agencies must navigate the complexities of data protection regulations and ensure ethical data practices to maintain consumer trust.
Information Overload: The abundance of data and technology may overwhelm marketing agencies. Prioritizing meaningful insights and avoiding getting lost in the noise will be crucial to making informed decisions.
The Future:
The prevalence of marketing agencies is likely to increase dramatically over the next two decades. The growth in demand, coupled with the foray of technology into AI and blockchain, will significantly impact how agencies operate.
The Role of Technology:
Technology is poised to revolutionize the marketing agency landscape. From automation and AI to data analytics, emerging technologies, digital marketing platforms, and blockchain, technology will shape the future of marketing. However, the role of marketing agencies will evolve to incorporate and leverage these new technologies, providing strategic direction, creativity, data analysis, relationship building, and adaptability.
The Implications:
The emergence of digital marketing companies and the success of startups have revolutionized the industry. Investing in strategic partnerships is one of the most effective ways to propel your business forward.
The Role of Matching Platforms:
Platforms like jelloow.com can provide unprecedented access to the most qualified individuals for each task at hand. With its handy matching platform in place, undertaking any agency-related endeavor should be as seamless as possible!
Conclusion of Changing Marketing Agency World
As marketers, it's imperative to understand the future of business. The changing landscape is swift; so are the advances made in technology and customer experience. As such, marketers must strive to remain abreast by continually learning and implementing new strategies – all while maintaining their commitment to offering value along with innovation as they look towards the future!
Check out Jelloow.com and grow your business.
Jelloow is here to smooth out any wrinkles you may find with a marketing agency relationship. Say you find the perfect agency for you and there have not been any problems. That is great and we are happy to help! There is also the other side of things where you may find yourself in a toxic marketing agency relationship and need help finding a new one. We are also here for you during that time as well. Jelloow is always here to make sure you are satisfied.