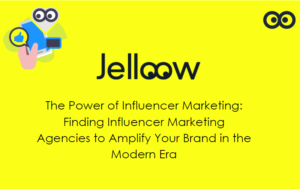 August 2023
Harnessing the power of influencer marketing has become crucial for brands looking to have a significant impact in the fast-paced world of digital marketing. Influencers have emerged as formidable figures who can shape consumer behavior and propel brand success as social media continues to rule the online landscape. At Jelloow . com, we firmly believe in the influencer marketing industry's unrivaled power and its capacity to take your company's brand to new heights in the modern era. In this blog post, we examine the limitless potential of influencer marketing and the crucial part Jelloow.com plays in assisting you in utilizing this power for your brand.
The Power of Influencer Marketing: A Brand Game-Changer
Influencer marketing has emerged as a marketing industry game-changer, providing brands with a singular chance to connect with their target audience on a profoundly personal level. Influencers today are more than just content producers; they are also respected authorities, trend-setters, and approachable individuals with a loyal following. Their effectiveness comes from their sincerity and capacity to forge real bonds with their audience.
The power of influencer marketing cannot be underestimated. When an influencer shares their genuine interaction with a good or service, it resonates with their audience and fosters a sense of credibility and trust that traditional advertising finds difficult to achieve. Increased brand awareness, greater engagement, and ultimately higher conversion rates are the results of this trust.
We at Jelloow.com are passionate about assisting brands in utilizing the transformative potential of influencer marketing. Our goal is to assist you in navigating the complex world of influencer marketing as your trusted partner. Here's how we can help you make the most of influencer marketing:
Access to a Vast Network of Influencers
Jelloow boasts a sizable network of influencers from a range of markets and specialized fields. We carefully choose influencers based on their authenticity, engagement, and compatibility with your brand's values. Through our platform, you have access to influencers who genuinely connect with your target market, forging a strong bond between your brand and the influencer's community.
It becomes simpler to connect with prospective customers who are genuinely interested in what you have to offer when you collaborate with the right influencers. The power of influencer marketing lies in its capacity to transmit your message through personalities that people respect, increasing the credibility and visibility of your brand.
Planning a strategic campaign
At Jelloow.com, we approach influencer marketing strategically. To fully comprehend your brand identity, marketing objectives, and target market, we work closely with you. The customized influencer marketing campaigns that our team of experts creates will then be in line with your goals.
We make sure that your brand message is effectively communicated and is resonant with the influencer's audience by developing unified and targeted campaigns. To harness the power of influencer marketing and produce quantifiable results for your brand, strategic planning is essential.
Negotiation and Contracts Made Simple
Navigating the complexities of influencer partnerships can be daunting. Jelloow.com simplifies this process by handling negotiations and contractual agreements with influencers on your behalf. We strive to establish fair compensation and transparent terms, fostering a positive and productive working relationship between your brand and the influencers.
By eliminating the administrative burdens, you can focus on building authentic connections with influencers and delivering an exceptional experience to their audience. This streamlined approach further strengthens the power of influencer marketing and sets the stage for successful collaborations.
Data-Driven Performance Analysis
At Jelloow, we firmly believe that data is the key to unlocking the full power of influencer marketing. Each influencer campaign's performance is carefully tracked and analyzed by our team of analytical experts.
We evaluate the effectiveness of influencer partnerships, pinpoint areas for development, and hone future tactics to produce the best outcomes using data-driven insights. We constantly improve the efficacy of your influencer marketing initiatives by making data-driven decisions.
Creative and Innovative Campaigns
Creativity is at the heart of every powerful influencer marketing campaign. Jelloow.com collaborates with influencers to develop captivating and original content that seamlessly integrates your brand's message into their authentic storytelling.
In a crowded digital landscape, your brand will stand out thanks to our creative approach, grabbing the attention of your target audience and leaving a lasting impression. A compelling and memorable brand experience is produced by the power of influencer marketing combined with creative ingenuity.
Why you should work with Jelloow
At Jelloow, we are passionate about empowering your brand's success through the unparalleled power of influencer marketing. Here's what sets us apart and ensures that you experience the full potential of influencer marketing:
Personalized Attention: Your brand is unique, and we treat it as such. Our team provides personalized attention and tailored strategies to meet your specific goals and objectives.
Transparency and Communication: We believe in open and transparent communication, keeping you informed at every stage of the campaign. Your feedback and insights are valued and incorporated into our strategies.
Measurable ROI: We are committed to delivering measurable returns on your influencer marketing investment. Our data-driven approach ensures that you have clear insights into the impact of each campaign.
The power of influencer marketing in the modern era is undeniable, offering brands the opportunity to connect with consumers in ways that traditional advertising cannot match. At Jelloow, we are dedicated to helping you unleash the full potential of influencer marketing for your brand's success.
Through our vast network of influencers, strategic campaign planning, data-driven analysis, and creative excellence, we amplify your brand's presence and foster authentic connections with your target audience. Partner with Jelloow.com and experience the unrivaled power of influencer marketing in the dynamic digital landscape. Together, we can elevate your brand to new heights and drive unprecedented growth in the modern era of marketing.
Need an influencer team or agency? Than work with Jelloow!
Jelloow is here to smooth out any wrinkles you may find with a marketing agency relationship. Say you find the perfect agency for you and there have not been any problems. That is great and we are happy to help! There is also the other side of things where you may find yourself in a toxic marketing agency relationship and need help finding a new one. We are also here for you during that time as well. Jelloow is always here to make sure you are satisfied.