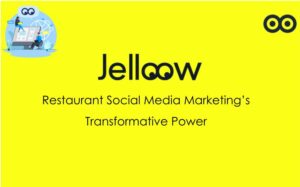 Hi, culinary entrepreneurs! With the rise of the digital age, social media marketing for restaurants has become a key ingredient to connecting with their target audience and amplifying customer engagement. This article explores the ins and outs of restaurant social media marketing and highlights effective strategies to enhance your business' digital presence. 
The power of social media marketing for restaurants 
The rise of social media platforms has transformed the ways consumers interact with brands in the restaurant industry.
Now more than ever, customers value brands' sincerity, especially amongst younger generations. Restaurant social media marketing enables customers and businesses to build direct and engaged relationships, which can maximize engagement and conversion. 
The restaurant industry is a competitive market, so examining your competitors' social media approach is essential to optimizing your own strategy. Luckily, utilizing social media platforms can help you gain insight into how they market their products and services. 
Restaurant social media marketing capitalizes on one of the industry's greatest assets: its visual appeal. Social media marketing excellently embodies the saying "a photo speaks a thousand words." The creative freedom enables businesses to expertly showcase the appeal of their restaurant's delectable food and wondrous ambiance. 
Crafting your restaurant social media marketing strategy
Engaging your audience is at the heart of successful social media marketing for restaurants. 76% of people said they have purchased a product or service based on a business' social media post, according to Retail Touch Points. Taking advantage of what social media marketing has to offer is a sure way to give your audience a taste of what your restaurant has to offer and drive organic traffic to your business. 
1. Create satiating restaurant and food content
The restaurant industry is a highly creative space. Social media marketing is your chance to capitalize on this artistic aspect by creating aesthetically cohesive feeds. Developing an aesthetic for your brand includes color palettes, text fonts, image and video filters, and more.
Short-form videos are the most engaging type of content on social media according to Forbes. Give your audience a taste of what your business has to offer by investing in high-quality images and videos that showcase your restaurant's dining experience. 
Restaurant social media marketing is about creating an atmosphere that will leave your audience enticed and curious for more. An important goal of yours is to translate the ambiance of your restaurant to the digital space. Stunning food presentation, imagery-filled captions, and behind-the-scenes insights go a long way. 
2. Build partnerships with influencers
When designing your restaurant social media marketing strategy, it is important to remember that your audience trusts genuine endorsements and reviews from authentic people. In fact, half of millennials trust product recommendations from social media influencers according to Forbes. 
A striking 88% of millennials say that influencers' authenticity and genuinity is important, according to Morning Consult. These partnerships with food-related influencers are excellent opportunities to expand your audience and enhance your visibility in the industry. 
3. Utilize user-generated content
Create branded hashtags where your users can share their experiences with your food products or services. Encourage your customers to share photos and reviews to build a community. This will not only boost user engagement but also help your brand build credibility in the industry. 
4. Interact with your audience
Efforts to personalize and humanize your business can go a long way in restaurant social media marketing. These include commenting, liking, and interacting with your audience's posts about your restaurant. This step is especially important for small businesses looking to build their community.
5. Offer enticing special deals
Incentivize your audience to interact with your social media pages by offering them discounts and limited-time offers. Social media has a fast turnaround time, so limited-time offers can help create a sense of urgency for your audience. 
Optimize your performance
Social media platforms offer detailed analytics that will help your business optimize its marketing approach. Measuring your progress over regulated periods of time so that you can pinpoint areas of growth. Here are a few metrics to keep in mind:
Comments, likes, mentions, saves, and shares: Keeping track of this data will help you understand what kinds of posts generate the most user engagement. 

Follower count and growth: These metrics will enable you to visualize larger trends in user engagement. 

Traffic and conversions: Learn which social media activities help drive the most traffic to your website.
Conclusion: Restaurant social media marketing
Social media has revolutionized the way restaurant's approach marketing. Don't know where to get started? Jelloow.com is here to find the right restaurant social media marketing agency for you.
Jelloow is here to smooth out any wrinkles you may find with a marketing agency relationship. Say you find the perfect agency for you and there have not been any problems. That is great and we are happy to help! There is also the other side of things where you may find yourself in a toxic marketing agency relationship and need help finding a new one. We are also here for you during that time as well. Jelloow is always here to make sure you are satisfied.