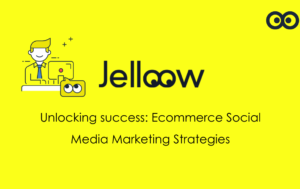 May 2023
Unlocking Success: Effective Ecommerce Social Media Marketing Strategies
In today's digital landscape, the fusion of ecommerce and social media has revolutionized the way businesses engage with customers. Ecommerce social media marketing is a powerful tool for showcasing products, building a loyal customer base, and driving sales. In this article, we will explore effective strategies to optimize your ecommerce social media marketing efforts and unlock success in the competitive online marketplace.
Know Your Audience for Effective Ecommerce Social Media Marketing
Understanding your target audience is crucial for effective ecommerce social media marketing. Conduct thorough market research to identify demographics, interests, and online behaviors. This knowledge helps you create tailored content and target specific social media platforms where your audience is active.
Choose the Right Social Media Platforms for Ecommerce Success
Selecting the appropriate social media platforms is vital. Consider demographics and business objectives. Facebook, Instagram, Twitter, and Pinterest are popular choices for ecommerce businesses. Focus on platforms that resonate with your audience and provide the best opportunities for showcasing products.
Build an Engaging Brand Presence in Ecommerce Social Media Marketing
Establishing a strong brand presence on social media is essential for ecommerce success. Maintain consistent brand imagery and voice across platforms. Engage with your audience by responding promptly to comments, messages, and reviews. Share valuable content, including product updates, industry insights, and user-generated content (UGC), to foster a sense of community and build trust.
Compelling Visual Content for Ecommerce Social Media Marketing
In ecommerce, compelling visual content is essential. Utilize high-quality images, videos, and infographics to showcase products effectively. Incorporate lifestyle imagery, product demonstrations, and behind-the-scenes content to captivate your audience and drive engagement.
Influencer Partnerships in Ecommerce Social Media Marketing
Collaborating with influencers amplifies your ecommerce social media marketing efforts. Find influencers aligned with your brand values and target market. Partnerships increase brand awareness, reach new audiences, and generate authentic product recommendations. Offer influencers exclusive discount codes or affiliate programs to incentivize their audience to make purchases.
Harness the Power of User-Generated Content (UGC) in Ecommerce Social Media Marketing
User-generated content (UGC) enhances ecommerce social media marketing. Encourage customers to share experiences and showcase products through contests, reviews, and featuring UGC. UGC builds social proof, strengthens brand loyalty, and increases trust among potential customers.
Social Media Advertising for Ecommerce Success
Utilize social media advertising to expand reach and drive conversions. Platforms like Facebook and Instagram offer robust targeting options. Experiment with different ad formats such as photo ads, video ads, carousel ads, and shoppable posts. Regularly monitor and optimize ad campaigns to maximize effectiveness.
Data Analysis and Optimization in Ecommerce Social Media Marketing
Analyze performance metrics to improve ecommerce social media marketing efforts. Monitor engagement rate, click-through rate, conversion rate, and return on ad spend (ROAS). Identify trends, evaluate campaign success, and make data-driven adjustments. A/B testing optimizes content, ad copy, and targeting strategies for better results.
Conclusion
Ecommerce social media marketing offers immense opportunities for businesses to connect with their audience, drive sales, and build a strong online presence. By understanding your audience, choosing the right platforms, creating engaging content, utilizing influencers and user.