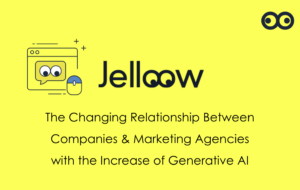 June 2023
Introduction: The Changing Relationship Between Companies and Marketing Agencies with the Increase of Generative AI
In the dynamic digital landscape of today, businesses are constantly seeking innovative ways to outpace the competition and connect with their target audience. An emerging trend that is reshaping the marketing landscape is generative AI, a transformative technology with the potential to revolutionize the relationship between companies and marketing agencies. At Jelloow.com, we are excited about this evolution and its profound implications. In this blog post, we will delve into the power of generative AI, its impact on content creation, personalization, data analysis, etc.
The Power of Generative AI:
Generative AI harnesses the ability of machines to produce original content, be it text, images, or videos, with a remarkably human-like quality. This technology leverages advanced algorithms trained on vast data sets, enabling the creation of unique and tailored content to fulfill specific requirements.
This technology is driven by algorithms that have been trained on vast amounts of data, allowing them to create content that is both unique and tailored to specific needs. The potential applications of generative AI in marketing are vast, as it can streamline and automate various tasks, saving time and resources for both companies and agencies.
At Jelloow.com, we recognize the immense potential of generative AI in streamlining operations, automating tasks, and optimizing resource allocation.
Streamlining Content Creation:
One of the biggest challenges in marketing is producing engaging and creative content consistently. With generative AI, companies can leverage the power of machines to generate content ideas, write compelling copy, or even design visually appealing graphics. This technology can help marketing agencies meet tight deadlines, reduce production costs, and more importantly, free up creative minds to focus on strategy and high-level tasks.
Enhancing Personalization:
Personalization has become a buzzword in the marketing world, as consumers expect brands to deliver tailored experiences. Generative AI can play a vital role in this aspect by analyzing customer data and generating personalized content at scale. By leveraging AI-powered algorithms, marketing agencies can create personalized email campaigns, social media ads, or product recommendations that resonate with individual customers. This level of personalization can significantly improve customer engagement and boost conversion rates.
Improving Data Analysis:
In addition to content creation and personalization, generative AI can also enhance data analysis, a crucial aspect of modern marketing. By processing massive amounts of data, AI algorithms can identify patterns and trends that humans may miss, providing valuable insights for decision-making. With generative AI, marketing agencies can deliver data-driven strategies, optimize campaigns, and identify new market opportunities, all while saving time and effort.
Effective data analysis is crucial for modern marketing success. Generative AI empowers Jelloow.com to derive meaningful insights by processing massive volumes of data, uncovering hidden patterns and trends that might elude human analysis. Armed with this information, our matching agency can deliver data-driven matches between a brand and a marketing agency.
Collaboration, Not Replacement:
While the potential of generative AI is transformative, it is essential to recognize that it complements rather than replaces human creativity and expertise. Jelloow.com firmly believes in the power of collaboration between humans and machines. By automating routine and time-consuming tasks, generative AI empowers our professionals to focus on strategic thinking, creative problem-solving, and nurturing meaningful client relationships. This synergy between humans and machines unlocks fresh possibilities and fuels innovation within the marketing industry.
Conclusion:
Generative AI is reshaping the relationship between companies and marketing agencies, ushering in a new era of efficiency, personalization, and data-driven insights.
Whether you are a company seeking to optimize marketing efforts or a marketing agency aiming to deliver impactful campaigns, embracing generative AI can be a game-changer. Keep a watchful eye on this thrilling trend and explore the boundless possibilities it offers for your business and marketing strategies. Together, let's embrace the potential of generative AI and shape a brighter future for the marketing industry.
At Jelloow.com, we understand the significance of this technological advancement and encourage businesses to stay informed and adapt to these transformative changes.
With Jelloow we want to enable brands to sit in the drivers seat when it comes to their marketing campaigns. Translating data into impactful marketing decisions is our motto.
Jelloow is here to smooth out any wrinkles you may find with a marketing agency relationship. Say you find the perfect agency for you and there have not been any problems. That is great and we are happy to help! There is also the other side of things where you may find yourself in a toxic marketing agency relationship and need help finding a new one. We are also here for you during that time as well. Jelloow is always here to make sure you are satisfied.