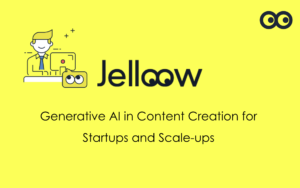 June 2023
Today, we're diving into a hot topic that's been making waves in the marketing industry – generative AI and its impact on content creation. Now, you might be wondering, what on earth is generative AI? Well, stick around, because we're about to find out.
The Rise of Creative Machines: How Generative AI is Transforming Content Creation for Startups and Scale-ups
Generative AI refers to the use of artificial intelligence algorithms to create original and dynamic content. It's like having a virtual assistant that can churn out blog posts, social media captions, and even video scripts. Pretty cool, right?
So, how is this technology transforming the way marketing agencies create content? Let's break it down.
In the fast-paced world of startups and scale-ups, innovative strategies are key to standing out from the competition. One of the most transformative advancements in the marketing landscape is the rise of generative AI. This groundbreaking technology is revolutionizing content creation processes, empowering startups and scale-ups to unlock unparalleled efficiency, creativity, and innovation. In this blog post, we will explore the power of generative AI and how it is reshaping content creation for companies in startup and scale-up mode.
Automating Mundane Tasks:
For startups and scale-ups, time is a precious resource. Generative AI automates mundane content creation tasks, enabling companies to streamline their workflows and allocate resources more strategically. By leveraging advanced algorithms trained on vast amounts of data, AI-powered systems can generate diverse content elements, such as text, images, and videos. This automation reduces costs, accelerates production timelines, and allows teams to focus on high-impact activities. As content creators, we all know how precious our time is, as we often find ourselves juggling multiple projects, deadlines, and brainstorming sessions.
Generating Unique and Engaging Content:
Creativity is crucial for startups and scale-ups to make a memorable impression on their target audience. Generative AI empowers these companies to tap into a wellspring of unique and engaging content. AI systems can generate content ideas, craft compelling copy, and design visually stunning graphics, all with human-like quality. By leveraging generative AI, startups and scale-ups can consistently deliver fresh and captivating content that resonates with their customers.
Liberating Creative Minds:
With generative AI handling routine content creation tasks, creative minds within startups and scale-ups are liberated to focus on strategic thinking, innovation, and developing impactful marketing strategies. This liberation of creativity enables teams to explore new creative avenues, experiment with fresh ideas, and push the boundaries of their marketing campaigns. By unleashing the full potential of their creative talent, startups and scale-ups can differentiate themselves in a competitive market.
Driving Strategy and Innovation:
Generative AI is not only transforming content creation but also driving strategy and innovation for startups and scale-ups. By automating data analysis and pattern recognition, AI algorithms provide valuable insights that inform strategic decision-making. These insights help companies optimize their campaigns, identify emerging market opportunities, and deliver data-driven strategies that maximize growth. The combination of human expertise and AI-driven insights creates a powerful synergy that fuels innovation and sets startups and scale-ups on a path to success.
In short:
Now, I know what some of you are thinking – "But won't generative AI replace human creativity?" Absolutely not! As humans, we bring something unique to the table – our emotions, intuition, and the ability to connect with our audience on a deeper level. Generative AI is simply a tool that enhances our creative process, giving us new perspectives and speeding up our workflow.
Of course, there are a few things to consider before fully embracing generative AI. One of the biggest challenges is ensuring the content remains authentic and aligned with your brand's voice. It's important to train the AI model with your brand's existing content to maintain consistency. Additionally, human oversight is crucial to review and fine-tune the generated content, ensuring it meets your quality standards.
So, where can you find generative AI tools? Well, they're popping up all over the place! Some popular options include OpenAI's GPT-3, ChatGPT, and Copy.ai. These tools are designed to be user-friendly and accessible, even for those without a technical background. So, don't worry if coding isn't your thing – you can still embrace the power of generative AI!
In conclusion, generative AI is revolutionizing content creation in marketing agencies. It's allowing us to streamline our workflows, tap into new creative possibilities, and ultimately deliver more engaging content to our audiences. So, why not give it a try? Explore the world of generative AI and see how it can transform your content creation process. Who knows, it might just be the secret ingredient that takes your marketing game to the next level!
Here with Jelloow we are using these models to create marketing transparency where we did not have it before. We want to translate data into impactful marketing decisions.
Jelloow is here to smooth out any wrinkles you may find with a marketing agency relationship. Say you find the perfect agency for you and there have not been any problems. That is great and we are happy to help! There is also the other side of things where you may find yourself in a toxic marketing agency relationship and need help finding a new one. We are also here for you during that time as well. Jelloow is always here to make sure you are satisfied.